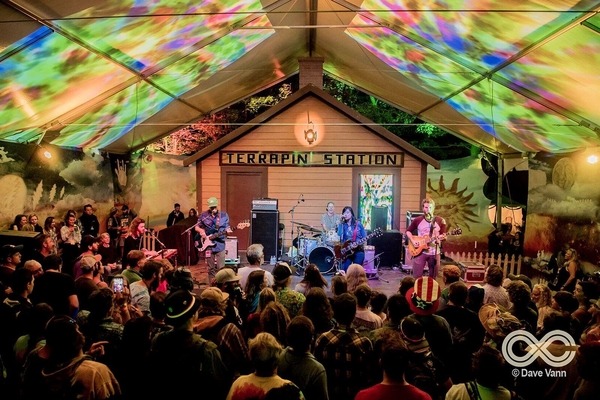 Garcia's Forest at LOCKN' festival was the home of lighting magic, thanks to the brainchild of SJP Productions.
Jeremy Peters, Owner of SJP Productions, turned the thickly wooded Garcia's Forest around LOCKN's Terrapin Station Stage into a transcendental canopy of colour with 150 pixel-mapped IP65 par fixtures, controlled by a ChamSys PC Wing and Playback Wing.
Peters hung between 3-5 lights on over 30 trees in the forest. Using modified hunting stands to set up his rig without harming the trees, the LD positioned his pars high over the ground, providing a colourful backdrop for the music on the stage, which featured a life-sized replica of the Terrapin Station Porch that graced the cover of the Grateful Dead album. Peters lit the stage using only 6 par fixtures.
"We wanted very minimal stage lighting to keep the 'porch' vibe, so we just used a basic front wash and a coloured wash on the tent ceiling. The idea was to make sure the porch façade was well lit, and that the Terrapin theme was easily identifiable, so we stuck mostly to the white front wash and let the trees take the forefront in our light show. However, when the music built up and called for something more exciting, we executed effects lighting on stage that was synched with the trees.
"We also had to take into account which direction the lights were facing and in which order the addresses were assigned on each individual tree," continued Peters. "The ChamSys built-in pixel mapper and pixel-mapping effects helped us achieve a variety of looks, all beautifully coordinated with each other."
Given the irregular pattern of the trees in Garcia's Forest, Peters did not use a visualiser to design his show. Instead, he took multiple walks through the woods prior to the 4-day festival to plan the design.
Peters concluded: "Coming up to the forest from a distance and seeing the entire forest glow with light was an absolute delight. There was a lot of satisfaction seeing how people reacted to our work. We gave them a surreal experience. Plus, it was a lot of fun to get up on an aerial lift in the middle of the woods and set lights on trees."