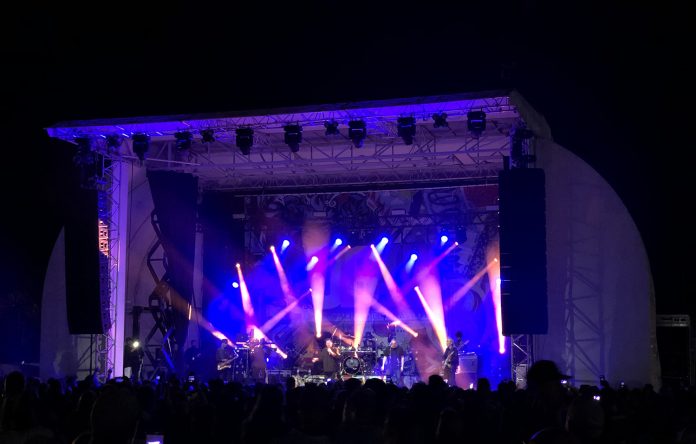 The multi-platinum British reggae band UB40 is going as strong now as they were when they started out in their native Birmingham in 1978. Packed houses greeted the band on their 40th Anniversary Summer Tour of the Southern Hemisphere in January and February.
The iconic band added a final show on February 8 at the Central Energy Trust Arena Stadium in Palmerston North, New Zealand. Sourcing local suppliers, the band's management contacted Sight & Sound Services, which provided them with a collection of CHAUVET Professional Maverick, Rogue and STRIKE fixtures, supplied by MDR Lighting. It was a choice that met with the enthusiastic approval of UB40's LD Brock Coddington on PEAK LX.
"I was extremely impressed by the entire rig," said Coddington. "It went really, really well. The Mavericks provided excellent punch, and the colours were fantastic. The Rogues were a great fit on that stage. The STRIKE 4s were great LED blinders. All and all, I was very impressed by the Chauvet range and would happily use them again."
Coddington relied on his mix of 16 Maverick MK1 Spot and 16 Rogue R2 Wash fixtures to cover the range of emotions in UB40's sweeping set, which covered songs from throughout the band's celebrated career.
The Maverick and Rogue fixtures were positioned across the back of the truss totems, in addition to being flown overhead. Coddington distributed his Maverick units evenly across the stage while keeping most of his washes stage left and right. From these positions, the Maverick and Rogue fixtures were able to create a captivating array of crossing patterns at different eye levels. This look, with its gentle undulating patterns and absence of sharp angles, reflected the spirit of UB40's music.
Forming an added connection to the crowd were the eight STRIKE 4 fixtures in Coddington's rig. Half of these units were flown on the downstage truss and half arranged across the upstage deck. Together they created two levels of audience lighting. The upstage units also provided backlighting for the performers on stage.
For the 8,000 or so in the audience on this warm February night, Coddington's multi-level light show provided an appropriately evocative backdrop to a performance by a beloved band that after 40 years still has the power to set everyone's spirits free.