Sia is truly a musical force to be reckoned with. Her musical integrity shows a passion for her art, which, during her career has seen her move to three different continents in pursuit of a constantly evolving vision. From the band days in her native Australia, to her gloriously intimate time in with UK (both as a vocalist for Zero 7, and during the development of her own solo career), to her success writing for some of the biggest female stars on the planet in the US, 2016 is the year that Sia Furler quirkily and creatively as ever became a US arena selling sensation. From the intricately produced show concept to the world-class audio package, TPi speaks to the team putting the show on the road for one of pop's most endearing leading ladies…
Production Manager, Javier Alcaraz, like much of the crew, had recently finished touring with pop sensation Demi Lovato. And, straight away it's clear that Alcaraz is a man who likes to be surrounded by a touring family. He told TPi: "Once I landed the Sia gig, I brought my team over one by one. I am almost fully staffed with the same team that I had worked with on Demi's tour, and some of the team members were with me prior to that, when we did Selena Gomez together."
His years as a Sound Engineer and Tour Manager has enabled him to garner a rounded view of what to expect from a production manager. Speaking about the tour's original concept, Alcaraz told TPi: "It's actually quite difficult to explain in text. In fact, it was described to me over the phone in the initial interview process and it was hard to grasp then! I have even described it to colleages in the industry and they are a little perplexed until they see it live… Essentially, Sia shot a 'movie', basically 14 vignettes, one for each song. This was shot as a live performance with cameos from some of her actor friends. They wanted to perform the 'movie' exactly as it is displayed on the screens; it was an art piece."
The momentously creative show was first debuted at Coachella, and continued through the summer to outdoor festival stages. "However," stated Alcaraz, "this show was never intended to be performed outside – it needs a very controlled environment to achieve the original look. Sia was highly involved with every aspect of the creative development – naturally everything needs to be approved by her; there won't be a single change made without her approval."
Alcaraz described the tour's pre-production was a 'two step process'. "When we were thrown into Coachella, the festival pre-production was a tall task… We were still learning everyone's names, so having to deliver a production that replicated the movie to a T was a huge challenge to say the least." That's certainly one way to start a touring bond! Post Coachella, Alcaraz and his crew had a festival run across the US and Europe. He continued: "Once we had completed the festival run, we were well versed in what needed to happen for the US arena tour. We started tour pre-production rehearsals in Hollywood about a month before the doors opened and were in rehearsals for about 10 days, adding some supplementary lighting looks, deploying some newly built set pieces and touching up the overall final look of the show. The departments which faces the most challenges is our stage / carpentry / props crews; they have to make sure the stage looks exactly like the movie and there are so many challenges to that. I can't emphasise enough how imperative that the stage must look exactly the same. We are measuring props, stage decks, lighting fixtures, etc to the inch."
When it comes to vendor choice, the PM describes his supplier list as "more or less the same over the last few tours – I even have many of the same crew chiefs! It's a formula that has worked out well and I will continue to use it for as long as it does."
The tour's key vendors include Sound Image for audio, VER for lighting and video, TAIT Towers for staging, Sound Moves for freight duties, transport by Hemphill Brothers and Upstaging trucks, with Latitude 45 Catering feeding the troops.
SOUND REINFORCEMENT
Sound reinforcement specialist, Sound Image, provided the tour's audio requirements. Jesse Adamson, Director of Business Development at San Diego-based Sound Image, commented: "The Adamson E15 system was definitely a key selling point on this tour. FOH Engineer Jon Lemon and I started working together years ago when I was still part of the Adamson organisation, and we've since developed a strong friendship. He is a fantastic engineer and one of my favourite people in this industry. Adamson is his preference and I always have a little soft spot for it myself, so it was a good fit for both sides.
"The PA system is simple to operate and has one of the best rigging systems available. It has been a smooth rollout in my opinion. Javier is also great to work with and is always on top of his game. He really makes it easy for everyone and I think the Sound Image crew is doing a great job because of this too. I have been out to see the show quite a few times, and it's running very smoothly – most importantly, it sounds and looks absolutley fantastic."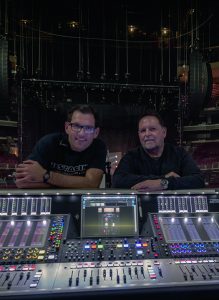 At FOH, mixer Jon Lemon took up the story: "I was asked directly by Sia last year to come on her tour as her FOH engineer, but I also had to build the playback from the original mix sessions, so it's been an interesting job. As Jesses stated, I had used Adamson in the past. I used the E15 on a Ray La Montagne tour about 18 months ago and found it to be the most linear and responsive speaker system currently available in the market. It helps to draw out the subtleties of the music easily, and now, in the large format arenas we're working in, it's performing amazing well.
"We use a full complement of Adamson E-Series speakers. The large arena shows utilise L-R hangs of 15 E15 line array enclosures with side hangs of 12 E15's. Up to six E12's are hung below the main and side arrays – audience geometry permitting – to provide more coverage when needed. A total of six E119 subs are flown just behind the main arrays to fill out the low end. Further support is provided by 16 E219 ground stacked subs – eight stacks of two, to form a continuous spaced sub array about 65ft long."
To mix the show, Lemon opted for a DiGiCo SD5 console. He explained his preference: "This desk provides me with all of the tools I need to be extremely thorough on such an unusual show. Not only because of the fantastically solid pre-amps on the SD192 Rack, but having two Waves SoundGrid Extreme servers loaded with the Waves Pro Pack gives me massive flexibility for such an automated show." Yet, it's not just Sia's tour upon which Lemon opts to use the brand. "I always use DiGiCo consoles because, for me, they are the best in the market place. They're so pervasive these days too – if there is ever a problem, the backup service is second to none."
With his entire preferred tools in place, Lemon is surely having an easy time of mixing? "Strangely, this is not the easiest show I've ever mixed, even though the consistency of all the tracks Marco Gamboa and I put together should make it easy, but because of our direct instruction to make it sound as much like the records as possible I employ a large amount of automation now. Also the show is so synchronised with the film and dancers everything must be precise at all times. Having said that, the tour is going so well that I'll keep using this exact equipment for as long as possible!"
Vic Wagner has been 'looking after' Lemon and handling system duties on the US full production leg, alongside the tour's PA Tech, John Leary. Wagner's relationship with Lemon goes back to the aforementioned Ray La Montagne tour. He stated: "I initially met Jon when I was photographing the tour for Adamson Systems. While visiting that tour, we started discussing the topic of sound reinforcement, mixing and the various avenues of information technology that has interlaced itself into our industry. Over the years, we kept in touch and hoped someday we could tour together. It finally became a reality when my schedule with Zac Brown Band opened up and Sia started carrying a full audio package.
Wagner added: "Sonically, the Adamson system is well suited for the frequency response and dynamic range required for a huge pop sound like Sia's show, and for the stereo mix that Jon sends to the PA. My approach was to create a flown system that is full range, thus the combination of E15 / E12 and E119's (flown behind the E15/E12 hang) to deliver the best possible coverage and phase coherence within each bandpass to as many seats as possible in these large venues, sold 180-220 degrees. Then a ground stacked spaced sub array that is horizontally linear in low frequency response on the floor and allowing me the flexibility to steer energy away from a classic power alley at mix, and minimise fatiguing sub energy in the seats closest and in the centre of the array. In addition, with the combination of the flown subs and ground subs, I can control where the vertical null caused by the unavoidable summation between the sources using the Blueprint prediction software and careful multi mic transfer functions measurement after the system is deployed. Conveniently, the spaced sub array of E219's are the perfect height for a significant S10 front fill system, providing pristine coverage for the first few rows. Basically, I wanted to design a system that sounds like big huge studio monitors for Jon Lemon to insert his mix onto and everyone in the arena to listen to. I want everyone to hear the same thing no matter where your seat is or how much you paid for it. We have the prediction and analytical tools to deliver that experience and I try my best to execute that every day regardless of acoustic and physical limitations.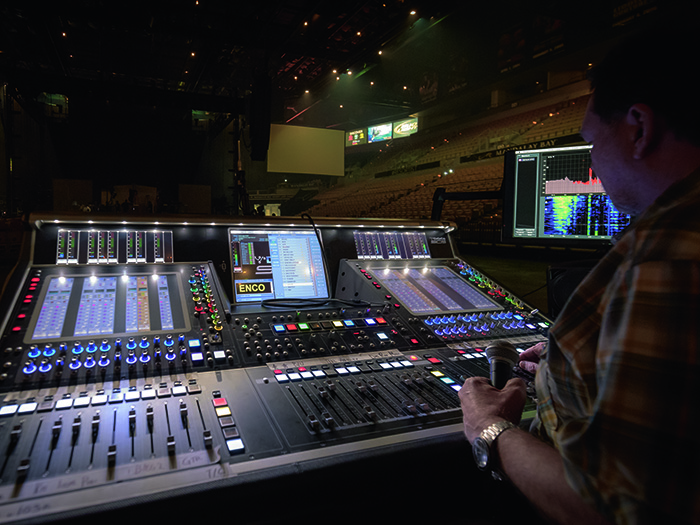 "The sub and low-mid energy in much of Sia's music is very controlled dynamically and goes well below the normal range of most pop and rock music. That being said, the Adamson stuff has excellent phase response and boatloads of headroom in the low-mid and sub band passes, so the two go hand and hand. It's exactly how her music is produced, how Jon Lemon has it mixed and how the system performs right out the box with minor time alignment and very little shaping equalisation", he concluded. MONITORS Monitor Engineer Adam Jackson has worked with Sia since March of this year, which like a large portion of the crew, followed on from a number of years with Demi Lovato. Jackson selected a DiGiCo SD10 console and a Shure PSM1000 in-ear system for the task in hand. He told TPi: "We are using DiGiCo consoles because of the fibre loop that our playback runs through. FOH, monitors and playback are all in this digital loop to ensure we always have clean, consistent audio for our show."
Sia's years of experience in producing her own music has lead to a clear but realistic idea of what to expect from her monitor mix. Jackson continued: "When it comes to how things are supposed to sound, she is right there with all of us. Her powerful vocals make it easy for 'both ends of the snake' to get what we need to make the show sound incredible. She is one of the most consistent vocalists I've ever had the pleasure of working for."
Despite the reliability of Sia's vocal, her performance style is not without its challenges – namely the fact that Jackson is unable to rely on eye contact like he would with other artists because of her now trademark face wig.
"We have moments between some songs where I will check in with her to see if she needs anything and she is great about keeping any notes for these times. We make it brief every time so we don't delay any songs," he said. "Knock on wood, we haven't had a reason to stop the show. I do, however, have to pay attention at all times in case she needs something because there is no eye contact like with a normal artist-engineer setup."
Jackson concluded: "This is a very special show. It's like nothing we, as a crew, have ever worked on before. Sia expects only the best and we are always ready to give her just that. There are many movements and changes that happen during the show and everyone has to be on their game.
"After months of planning, it feels unbelievable to be able to take this on the road and show everyone what we do. From the crew to the dancers to Sia, we believe this is being delivered to the audience exactly how we planned it. Nothing feels better than that. My wish is that every fan could experience this amazing show!"
LIGHTING
Touring LD Chris Smith was another relatively new addition to the crew having joined in May for the tour. "Sia's current LD had a conflicting gig and could only stay on for so long, so Javier called me and we went from there," reminisced Smith. "I've worked with him on several tours before and I consider him one of the best, so the choice was pretty easy.
"It's been quite the journey, but Sia and her creative team have been very involved in every aspect of the design. By the time I had arrived, they had created a whole movie of the show and filmed it in a studio. For this part, the lighting was designed by Michael Keeling and programmed by Michelle Sarrat."
Once Smith arrived, his first task was to execute what the crew had originally designed in a plethora of different environments. He continued: "Once we moved to larger arenas, we enlisted the help of Cory Fitzgerald to design a lighting package to help us 'scale up' while still keeping Sia's original vision intact. I programmed the extra additions as well as some new material that was filmed with Sia and her team giving a lot of input."
Before commencing with headline tour in the US, the crew went on a festival run through Europe. As it turned out, this would serve as something of a contrast to the stability of the US tour that would succeed it. "Our show is super theatrical and it requires total precision in order to maintain Sia's vision," Smith commented. "Putting it into the hectic festival schedule day after day was quite the challenge! With a lot of advance work, including sending a separate advance team to prep and pre-programme the show (thank you Tyler Trofatter), we were able to get our show done even though we had a wide variety of lighting packages to use throughout the run.
"It should also be mentioned that the local vendors and festival programmers, too many to mention, were all wonderful to us and really helped us put our theatre show into their rock and roll festivals."
In order to realise the theatrical vision Sia had for the show during this US run, VER supplied 35 Martin by Harman MAC Viper Performances, 28 MAC Viper Air FXs, 37 GLP impression X4 Bar 20's, 14 Solaris LED Flares, eight Ayrton MagicBlades and a pair of MDG theONE atmospheric generators. The rig was controlled via two MA Lighting grandMA2 consoles – one live and one for back up.
While the crew managed to maintain a lot of the original specifications, some key additions were made in order to achieve the sense of scale that was needed in the larger venues. Smith explained: "We have several different fixture types, but I would say we're leaning heavily on two fixtures that are really making the show work. First off, our workhorses are the MAC Viper Performances. Our show relies heavily on shuttering fixtures to frame many specific areas. In Europe, with our rig changing to local spec every day, I got to try out just about every shuttering fixture I know of and I'm still impressed with the Viper's ability in this regard as well as their flexibility. We're framing at some very odd angles and they're making it work!"
He continued: "Secondly, for our US Tour, we added a 10m x 10m 'proscenium' of GLP X4 Bar 20's. They do a great job of framing our set and filling up the large spaces that we have inhabited. Their uniform beam and tiny beam angle is allowing us to extend that fourth wall out into the audience in a very nice and subtle way."
Given his standing as relatively fresh blood within the Sia camp, Smith said that he views his time with the artist as a tale of two tours. He enthused: "Our first leg in Europe was a wild and wonderful ride, hopping from country to country and putting our unique show into many different venues. There were many trials and tribulations to be sure, but we got through it mostly unscathed. Back here in the 'States we have had a lot more structure. More than any other tour, this one is really reminding me of how much of a luxury it is to be able to use the same fixtures every day! Overall it's really a pleasure to be working with such a great and supportive team and I'm glad to be on board."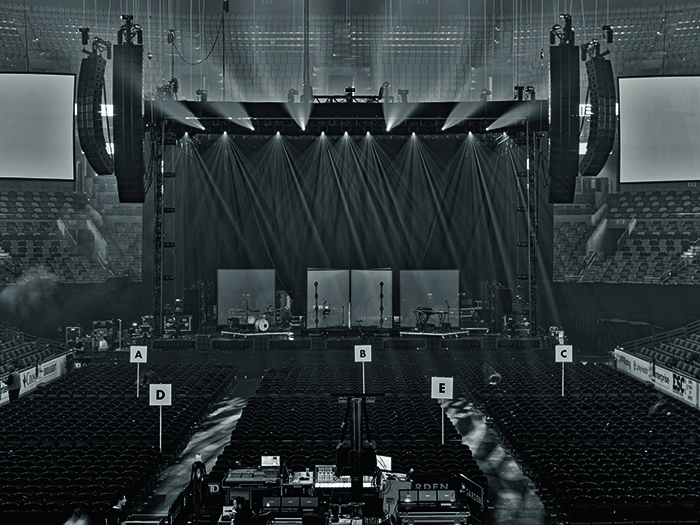 VIDEO
VER also supplied video kit for the tour, which included two IMAG screens; an upstage video wall and LED dance floor, as well as nine Barco HDF-W30 projectors and two d3 Technologies 4×4 media servers.
Video Engineer Radu Iftimie was suggested for the tour by Dustin Engelskind, a representative for d3 consulting and programming company Lucid Creative, and also began in May of this year. He picked up the story: "Sia and her team have thought up a unique and theatrical approach to the show. Our IMAG content is pre-recorded performance of Sia and the dancers on stage. As a result, the job of the Video Engineer is to match the content we are shooting on the stage with the content on the IMAG and matching timecode.
"We use two d3 media servers, one set up as a main and the other as an understudy. Only three outputs are being used, one for IMAG screens, one for the upstage wall and another for the dance floor. Other equipment used includes a 10 gig network for media, a Lightware DVI router, six Barco Image Pro II (four main, two back up), one Blackmagic SDI Router, one Brainstorm sr-112 Timecode Distripalyzer, and a 400Amp distro."
The crew also travelled with a total of 20 lenses of various lengths for the Barco projectors so they were ready for each venue, and a Playback Pro for 'sponsor loops'. Iftimie explained: "Sia is involved with various pet adoption agencies in each city we are in and we receive new content for each show. This is a pretty standard set up and it has worked well for us."
For the show itself, given the flexibility of the d3 system, only one person was required to run the content. This meant there was only three other members on the video team, all from VER: David Cruz, Crew Lead who also took care of setting up IMAG projection; Sonny Harker, who set up the two 18ft x 32ft fastfold screens and helped with IMAG projection; and Lance Duvall, who took care of projection for the stage as well as the robocam that was set up at FOH to help the set change crew and dancers see what was happening on the stage.
Iftimie said: "The robocam has become very useful for me as well, considering I do not have a clear view of the stage, so I have a feed available to tweak the warp of the projection through the d3 if the upstage wall starts leaning a little (it is dead-hung with sandbags securing the bottom against the dance floor) or if there is some movement from the truss that our projections is on.
"While I'm running the video content for the show, Lance is also keeping an eye on the stage projectors and is on standby to take manual control of projection in case the d3 fails to trigger a shutter command or if we have need to switch to a backup projector."
Although the amount of gear used by the video crew may seem minimal compared to tours of a similar calibre, this also meant that the system was designed with an easy rig and de-rig in mind. "Load-in on average, with four main crew and six house-provided hands, will take us around three hours on a good day, while load-out with same amount of crew takes up about an hour and a half. There are a total of no more than six trucks used for all departments combined, with the video department using about 22ft of one of the trucks," Iftimie said. "This tour is a prime example of when less is more."
VER's Account Manager, Bob Suchocki commented: "We already had a strong working relationship with Javier, so we were really honoured when he asked us to get involved with the production after we helped out on Sia's performance at Coachella. First we supported one-offs from our various shops around the country, which led to VER supporting the US tour. Our lead on creative screen control, Drew Atienza, lighting crew chief Joe Gonzales, video crew chief David Cruz and their teams are proud to be helping to bring this extraordinary production to life for Sia's fans."
STAGING
Pennsylvania-based TAIT was tasked with taking an existing set concept and replacing it with a more roadworthy version – although the screen and dance floor set pieces had been used for one off shows and music video shoots, they were not built to tour. TAIT also provided an automated Austrian curtain that was rigged downstage, two manual tracking curtains on the sides of the stage, and several more masking curtains to help frame the show for arenas.
Aaron Siebert, Project Manager, TAIT caught TPi up to speed with TAIT's way onto the tour: "We were originally contacted by the head carpenter Minh Nguyen, and then connected with the Javier and the LD, Cory. We did not supply any crew, and the majority of equipment supplied was rental stock, with a lot of custom-built soft goods.
"It was a pleasure to work with these guys. We were able to talk through the show's needs and work through all the challenges to cover everyone's concerns. Since we knew what the show needed to look like, it was simply a question of choosing the proper gear and implementing it correctly."
RIGGING
Head Rigger Chris Regan was introduced to the Sia camp from the Lighting Crew Chief, Joe Gonzales. Regan said: "We had spent the summer together touring with Pitbull, and as we had no rigging issues for the entire duration of the tour, he suggested to Javier, that he should bring me on the road." But it wasn't just one recommendation that would do for a new face in the veteran PM's camp, as Regan elaborated: "Being as completely thorough as Javier is, he called another PM from my hometown of the San Francisco Bay Area to check my credentials!"
Russ Keith, our Advance Rigger who overlays the show to every venue that we go into is so crucial to the tour. With decent advance work there are no surprises or obstacles to prevent a smooth load in and load out. I do use local riggers of up to 14 flown riggers over seven ground.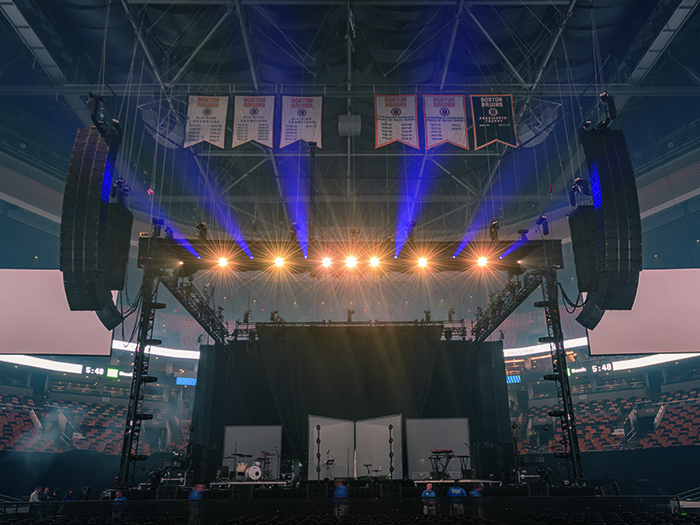 "The rigging process starts with an hour to check the house stage, to and mark out all of the rigging before every department is called to the floor to start their own days. After the house stage is checked, we then chalk the stage and floor with our chain motor points. The local riggers build the steel needed to pull the show and stay until the show is at trim. They are then released until the load out that evening. I rig a show thinking of the load out; a smooth load in is very important but also a smooth load out is just as important," he clarified.
MOVING AND FEEDING THE TROOPS
Trucking for the US leg of the tour was taken care of by Upstaging, which again started its relationship with Alcaraz three years previously through Demi Lovato. Upstaging's Jeni Clark commented: "We provided six trucks for the tour and luckily they didn't have to deal with any logistical challenges or unforeseen circumstances. It's been a great experience. Production makes everything seamless – we're just stoked to be out there with such an innovative tour and professional crew. It's been awesome."
Tennessee-based Hemphill Brothers provided six luxury coaches for the tour, with a team managed by Mark Larson. Sound Moves' Justin Carbone account managed the tour's freighting logistics and Latitude 45 Catering's Chris Mitchell was in charge of feeding the tour's production crew around the US.
If the reaction to Sia's tour in the US is anything to go by, Alcaraz has certainly got the right idea when it comes to creating a trustworthy touring family; from concept to creation, the crew behind nostalgic for the present are clearly at home on one of the most unusual – and technically successful – touring productions US arenas have ever seen.
TPi Photos: Vic Wagner