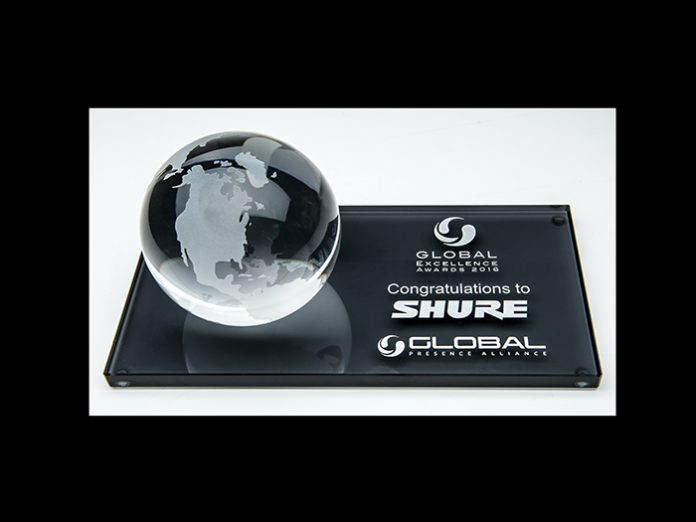 Shure has been recognised as a 2016 Global Excellence Award winner by the Global Presence Alliance (GPA). As a reflection of the leading audio, visual, and UC manufacturers and vendors, the annual Global Excellence Awards honour the vendors that exhibit the highest level of commitment to delivering superior experiences to GPA members and global customers. Shure joined the GPA's Accredited Vendor Program in January 2016.
The GPA, consisting of leading audiovisual, videoconferencing, and managed services solution providers across five continents, surveyed an array of executives, sales, and engineering teams. Each nominated vendor was rated across five categories, including product innovation, technical support, sales and marketing programs, commercial flexibility, and commitment to global deployment and support programs. Of the 30 vendors nominated, a select group achieve the status of Global Excellence. Shure was selected as one of the clear leaders, demonstrating excellence in all of focus areas named above.
"The Shure name is synonymous with history and innovation within the industry, and while they have long maintained an array of commercial / enterprise centric products, this focus has been increased significantly in recent years with some market leading product introductions," said Byron Tarry, Board president of the Global Presence Alliance. "Our survey results are well deserved recognition of Shure's efforts both broadly within the market, and in understanding and supporting the GPA's vision for Global Excellence in AV / UC services and solution delivery."
Shure accepted its Global Excellence Award at InfoComm 2016 in Las Vegas.