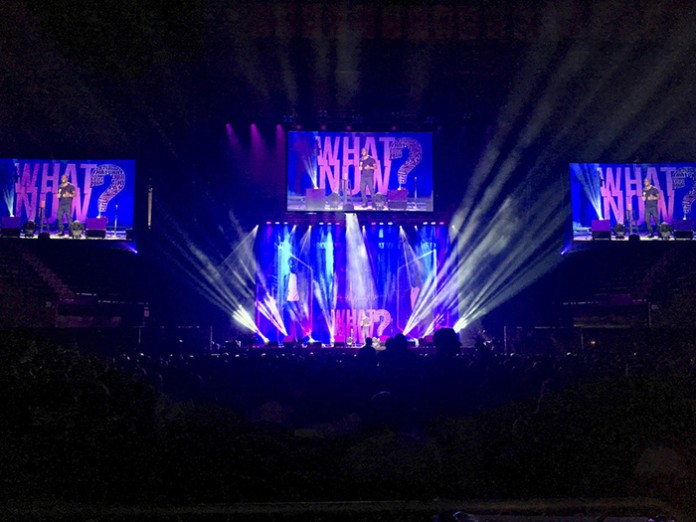 Comedian Kevin Hart went on a sold-out tour of the US and Canada in 2015 with a Martin Audio MLA system provided by Showtime Sound LLC of Frederick, Maryland.
When asked about the challenges of producing the current tour, Showtime Sound's Scott Tydings said: "We've worked with Kevin since 2010 and did the last tour, so we know what to expect, but there are always a few surprises. Showtime has been in business since 1996 and we do a lot of music tours, but lately there's been more of an emphasis on comedy artists, including Amy Schumer who we're on tour with right now. The Martin Audio MLA rig has been a big help for both Kevin and Amy's tours. We first used it for the What Now? tour after hearing the MLA Compact at a demo. We've wanted to use it for a long time and just needed this opportunity to put it out there and showcase it."
For Hart, the set up included 15 MLA and one MLD a side, 12 MLA Compact cabinets a side for outfills and eight MLX subs ground-stacked alongside the stage. When asked about using MLA for a comedy artist, Tydings commented: "We thought it was a great fit for Kevin especially in terms of intelligibility in the arena because if you miss one word he says, the joke's not funny. It's more important to have even coverage and intelligibility for a comedian than any rock concert you're ever going to do.
"In fact, I sold MLA to Kevin Hart, his tour manager and Live Nation. I just kept telling them and telling them about it. When I finally got the opportunity to put it in front of them, they loved it so much that when we picked up the Amy Schumer tour, they were insisting we use MLA for that as well, which is all arenas. It's the same hang. Kevin's definitely noticed the difference in articulation and even coverage in every seat with MLA. I was using another system before with three hangs a side and we were still getting sound complaints from people in the upper sections of large arenas about not being able to hear or get the clarity they needed."
FOH Engineer Kenny Hoyt, who's worked with a number of different systems over the years, echoed Tydings's impressions: "MLA is amazing. The clarity and coverage is so much better when capturing a single voice in a large auditorium and making sure that every word gets out to the audience than other systems I've used. Other PAs are ok, but mixing with an MLA system is like nothing else I've ever experienced. I just know that the sound's going to be smooth and consistent with all the right overtones."
Tydings concluded: "There's been a world of difference with the MLA rig. It's night and day. We've just had some fly dates and Kenny's never happy when he has to leave the MLA rig and do the same show on another system. It's just never the same.
"For me, MLA is like having 3D audio. Instead of sounding like it's coming from a speaker a few hundred feet away from you, Kevin's voice is right in front of your face no matter where you're sitting."