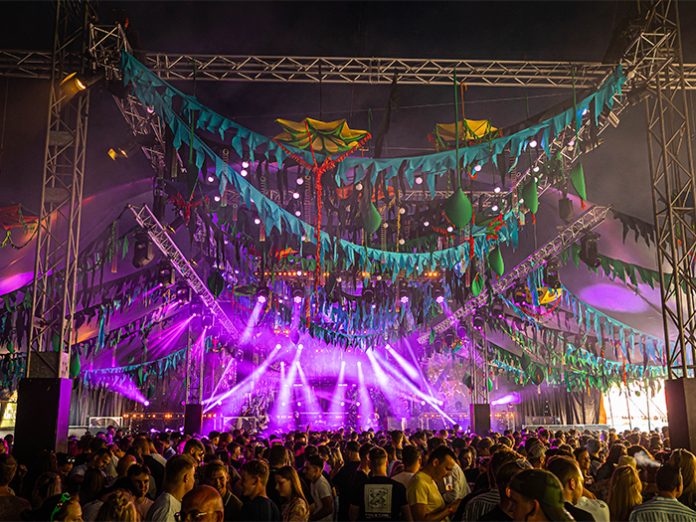 Heerlen in the Netherlands was the place to be for the 10th edition of ParkCity Live on 16th and 17th July 2022. Headliners on the main stage on Saturday night were BLØF and Limburg legends Rowwen Héze, while Sunday night ended with performances from Danny Vera, Anouk and renowned Dutch DJ duo Lucas & Steve. The main stage had lighting provided by Ampco Flashlight Group, while lighting effects for the tented dance area were provided by SLF Group.
ParkCity Live is an event that's gone from strength to strength since its inception in 2010 and this edition welcomed around 35,000 festival goers over the course of 2 days. An event of this size clearly needs to be well organised and that involves everything from catering to toilets, as well as great sound and lighting.
As its name suggests, the main stage is where the biggest names play and where the biggest crowds gather. It's important, therefore, that the main stage makes a big impression on the performers as well as the audience. To that end, 24 iFX-640 effect moving heads by Infinity were used. These versatile light fixtures ensured that the main stage was illuminated with an ever-changing variety of colourful light effects. With an endlessly rotatable, bi-directional front lens that creates prism beam effects, a diffraction filter that creates flower effects, beam diffusion blades that create a wash, a strobe function, 4 dimmer curves and more, the possibilities are virtually endless.
SLF Group were the company responsible for supplying lighting equipment to the tented dance area and they used a large number of light effects by Showtec and Infinity to create the ideal atmosphere. Beam, spot and wash effects were provided by 20 Showtec Phantom 12R hybrid moving heads and 28 Showtec Spectral M1500 Zoom Q4s.
Additional effects came from 24 Showtec Sunstrip Active MKII blinders and 3 Showtec Festoonlight Q4 Strings. The icing on the cake included top-quality lighting from Infinity with 36 iW-741 wash moving heads, 12 Infinity Furion Series B401 Beams and 6 Infinity iFX-615 moving light bars. The Infinity Chimp 300.G2 light controller offered optimal management over all of the lighting fixtures.
Live music, great lighting and a fantastic atmosphere are what ParkCity Live is all about and after another successful edition, the organisers have already set the dates for 2023.