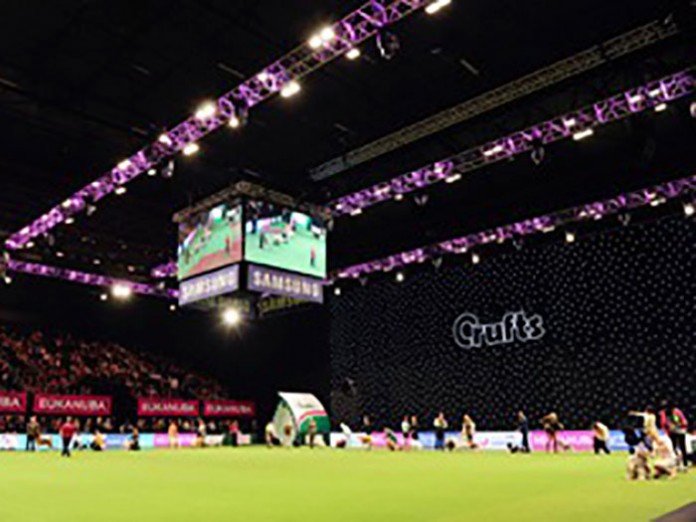 S+H Technical, the drapes, starcloth, LED, video and special effects specialist from Devon, supplied their LED starcloth and a custom built LED sign for the main show ring of the world's most famous dog show, Crufts, staged by The Kennel Club at the Genting Arena, Birmingham, UK.
The starcloth was specified by Jon Pope of Chichester based Lighting Design Services, the show's lighting designer since 2009, and was installed along the upstage edge / back of the main ring – making a classic backdrop for cameras, video and other assorted media. The eye-catching 6.5 metre wide x 2.2 deep sign was flown in front of the large starcloth. Made up from approximately 1200 x RGB LEDs with a 40 mm pitch and 8-channel DMX control giving full colour-mixing, chasing and dramatic twinkling effects, all run from the lighting desk, this was first fabricated for the event by S+H in 2012.
It has now become an essential part of the show's live visuality. With all the main action taking place in the show ring and much of it televised, it is essential to have strong Cruft's branding as well as an attractive backdrop for camera shots and photography, and the LED elements fulfil both criteria. When the Best in Show competition is being judged, the sign is featured constantly in the background camera shots.
The large RGB starcloth was also run through Pope's lighting desk, an ETC Congo, which allowed Jon to bring an additional layer of lighting to the picture, where his biggest challenge is to ensure the vast space is well lit for TV and also the enthusiastic live audiences of dog lovers and professionals who visit each year to imbibe the whole Crufts live experience.
"The starcloth means I can add glitz and glamour at the appropriate moments," saidPope. "It avoids those uninviting black back-of-camera voids and is definitely now part of the look and feel of the show."
Crufts runs for four days in March and the main show ring is in use for 12 hours a day, so any kit has to be robust and reliable. Pope has worked with S+H on Crufts for some time now and said: "The service is always great and they go out of their way to ensure everything is delivered quickly, efficiently and with a smile. The attention to detail is excellent – all the LED cloths are matched in colours and brightness, which is essential for looking good on camera.
His account handler at S+H, Terry Murtha, said: "We love being involved in Crufts, it's an excellent, high profile and well produced event that provides lots of fun and entertainment value, and it's great to see our kit making such an impact." Pope's immediate clients are the Kennel Club's events and education manager Vanessa McAlpine and events manger Catherine Guiver. He programmed and ran the generic lighting this year working in conjunction with moving light operator, Phil Cole on a grandMA2 console. All the other lighting equipment was supplied by Neg Earth. Crufts is directed by Nick Brooks-Ward.