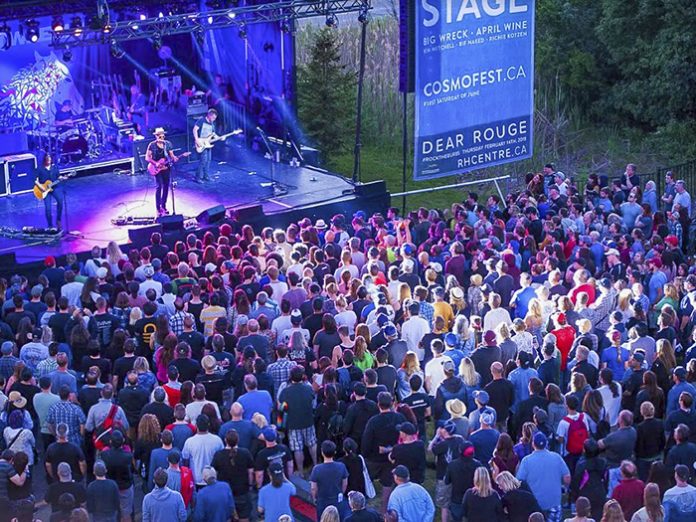 Cosmo Music of Richmond Hill, ON teamed up with Canadian distributor SFM to deploy an Eastern Acoustic Works Adaptive sound reinforcement system.
"The stage was located at the far end of the area with food trucks located at the end of the audience area, roughly 225 feet back," explained Cosmo Music's Professional Services Division Manager, Ryan McLeod.
"We wanted the primary concert audience area to have solid, even coverage while maintaining a more family-friendly volume in some areas – this was easily accomplished with the Eastern Acoustic Works Adaptive system that was deployed."
SFM Production Specialist, Paolo Bizzarro along with EAW Pro Audio Application Engineer, Jonas Domkus, were responsible for the design and setup of the system.
Left-right hangs of 8 Anna modules along with 8 Otto subwoofers covered the listening area with the clarity and quality the event required. 4 RADIUS RSX208L line arrays evenly spaced along the lip of the stage completed front fill duties.
"The coverage was no surprise as we had mapped it out in Resolution software first," added Bizzarro. "I am consistently impressed with the technology. It takes a minimum number of boxes to cover the space plus we gain tons of time with load-in and load-out. Everyone wins with this system."
McLeod concluded: "Not only did it sound great, but we were able to keep the sound away from the neighbours and reduce reflections off nearby buildings that in the past posed challenges – a big bonus. We are right in the middle of a residential neighbourhood, so keeping sound localized is very important to us. It's hard not to be impressed with the entire package."