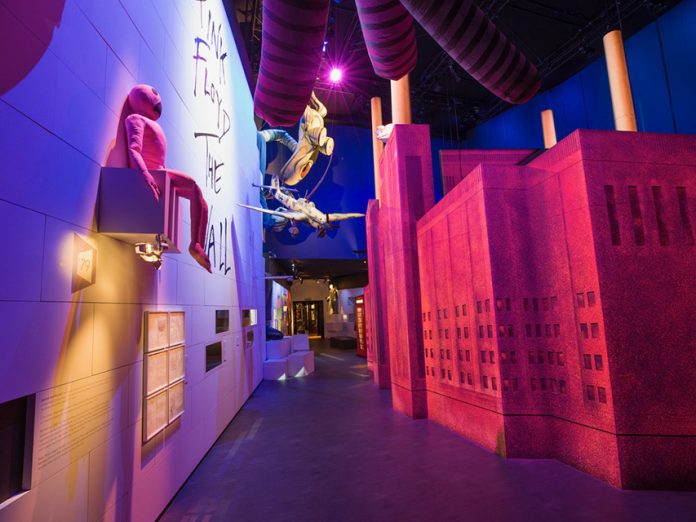 Production company LarMac Live called in Setsquare Staging to reproduce hero pieces and build infrastructure for The Pink Floyd Exhibition: Their Mortal Remains, the biggest ever at the V&A.
Setsquare produced the scaled-up, walk through model of Pink Floyd's 1965-era Bedford van which opens the show, a 9m high parallax view Battersea Power Station, representing the Animals album cover, a 7.5m model of The Wall, set opposite, and a series of beds reproduced from original Momentary Lapse of Reason LP artwork.
Created in the company's own workshops, from 3D design through to finishing touches, Setsquare also oversaw the intricate installation process on site.
Ian Greenway, Director at LarMac Live, comments: "There are more than 350 original artefacts at Their Mortal Remains and we needed scale model props to put them in a fitting context.
"Setsquare Staging is fully equipped to design and build infrastructure and it has a hugely talented team of people. That combination helped to bring another level to the exhibition experience."
Matthew Clemitson, Setsquare Staging's Project Director, said: "Pink Floyd is all about creativity and the pieces we produced had to reflect that. LarMac gave us the draughts and construction drawings and we got to work. The exhibition is a technical masterpiece, a fantastic insight to a band that changed the face of rock music. It's a pleasure to be back at the V&A with a project as special as this one."
Developed by Aubrey 'Po' Powell, working closely with Pink Floyd drummer Nick Mason, and designed in collaboration with Stufish, the exhibition follows the Pink Floyd story from 1965 to the band's reunion at Live 8 in 2005 and has won universal five star reviews.