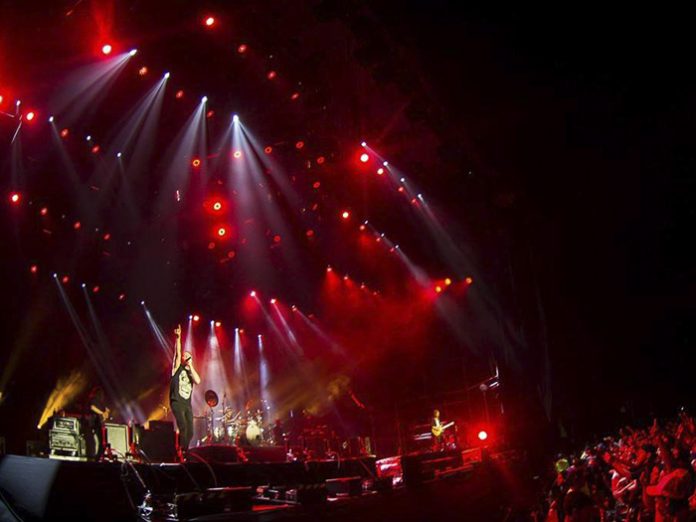 The sprawling grounds of a former Mexican steel foundry have become one of the hottest spots on the music festival scene. Started only five years ago, the Pa'l Norte festival is already the number one tourist event in the state of Nuevo León in terms of its economic impact.
This year's edition of the two-day event drew 160,000 fans from throughout the world and featured a heady and eclectic mix of stars that included The Killers, Placebo, MIA, The Offspring, Kaskade, Maná, Jason Derulo and Enanitos Verdes among others. Providing a suitably powerful background to their performances was a main stage festival rig anchored by 72 Maverick MK2 Washes from Chauvet Professional.
Serpro Producciones, which supplied the RGBW LED moving wash fixtures, flew them on truss that descended in height from downstage to upstage. At the centre of this configuration were two diamond shaped truss boxes, one inside the other. On either side of this centrepiece were 10 rows of truss, each with four MK2 Washes. The overhead Mavericks provided visiting LDs with a fertile backdrop for their designs by hitting the stage with vividly coloured light from down, side and back positions. Mavericks positioned on the higher downstage truss were also often used to light the apron of the stage and for audience lighting.
With their wide 7 to 49-degree zoom range, the Mavericks made it easy for visiting artist LDs to vary coverage areas. Also contributing to the flexibility of the festival rig, which was essential given the diversity of the performers on stage, were the Mavericks' prowess as pixel mappable lights.
The intense output of the Mavericks (up to 19,000 lux at 5 metres) made them well-suited to light the stage at the start of the festival under a bright Monterrey sun. "The activities program starts at the mid-afternoon, when the sun still shines brightly," said Edi Sosa, Lighting Manager at Serpro Producciones. "This is a great challenge for a lighting designer. To help them meet that challenge, we needed to have lighting that stood out under bright conditions. The Maverick MK2 Wash had no problem with brightness at any time, whether they were used to wash the entire stage or highlight an individual artist." he added.
When it isn't serving as the site of the Pa'l Norte festival, the former foundry, now called Fundidora Park, is a popular tourist attraction in its own right, housing youth baseball fields, a Ferris wheel and ponds with paddle boats – all set against a beautiful mountainous backdrop. These attractions, along with a unique food court, were available during Pa'l Norte, but it was the festival's impressive music that fans came to see. They weren't disappointed with the music or – thanks to Serpro Producciones – the lighting that supported it.