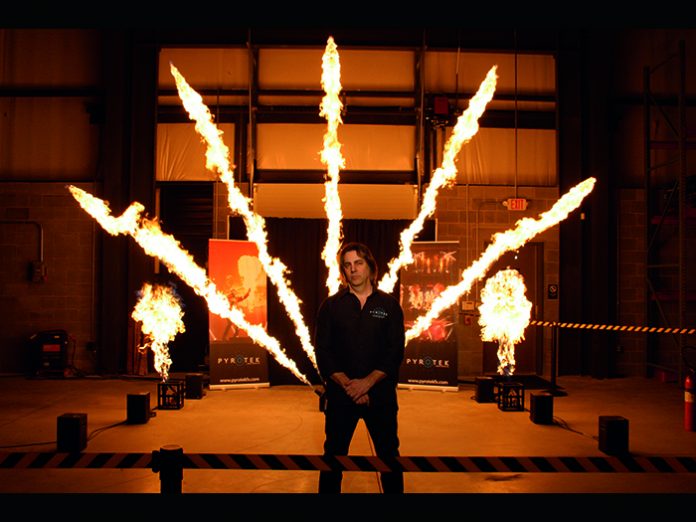 What first sparked your interest in live events?
"Since I was a teenager, music has been one of the defining passions of my life. This naturally fed an interest in going to live concerts and, over the intervening years, I have attended hundreds of shows. Whether it is a full-on stadium extravaganza or a more intimate club gathering, I never pass up the opportunity to see one of my favourite acts play live."
How did you find yourself in the special effects side of the business?    
"My professional background is in general management, sales & marketing, law and business transactions. About 8 years ago, my business partners and I were making strategic investments in niche private companies with strong growth prospects.
"We ended up with an opportunity to acquire Pyrotek from its founder and were attracted to live event production, the reputation and market position that Pyrotek had built for itself, and the opportunity to further develop and grow the business."
What have been some of your personal highlights from your time with Pyrotek?
"My highlights would typically centre around some of the big developments we have made in Pyrotek's business over the last few years. We've made very large investments in expanding our facilities to keep pace with the needs of our clients, growing our presence from 2 facilities in Toronto and Las Vegas to 5 facilities, including New York, Nashville, Lititz, a larger Las Vegas facility and our Toronto head office. In conjunction with the growth of our facilities footprint, we have made large additions to our team in almost every area of the business. It's been immensely satisfying to see this expansion and people yield tangible benefits to our clients in terms of the special effects solutions we are able to provide and the technical, project management and logistical support we are able to bring to help make each show a spectacular event."
In your opinion what have been some of the biggest changes within the world of SFX over the years?
"The demands on the production side have become more elaborate and more sophisticated. Artists are generating large amounts of their income from live shows and production teams work continuously to position these shows on the leading edge of magnificent. This trend has really played to our strengths because we feel we can really add value in these situations. At the same time, the competitive environment in our category (special effects) has become a bit fragmented, with various companies of differing scale and capability chasing some of these large productions. I have seen cases of special effects providers getting in over their head on a big production, and this is a trend we should all keep our eyes on. It's difficult work that we do, with complicated creative, technical, safety, risk management and insurance parameters where the consequences of a failure can be very high. A company has to have very specific experience, scale and professional competency to be the right partner on some of these shows and it is my hope that the production community remains attuned to this dynamic."
What have Pyrotek got on the schedule for the rest of 2018?
"Our ongoing tours right now include Katy Perry, Bruno Mars, Metallica, The Killers and Kendrick Lamar. We are also busy lining up a few more big productions for the spring / summer season, which we won't be able to talk about until these shows hit the road…"
Finally, what can TPi readers find you doing when you're not behind your desk at Pyrotek HQ?
"In addition to being an amateur guitar player, I enjoy a whole bunch of outdoor activities including mountain biking, snowboarding, climbing and mountaineering. I also study and practice karate."