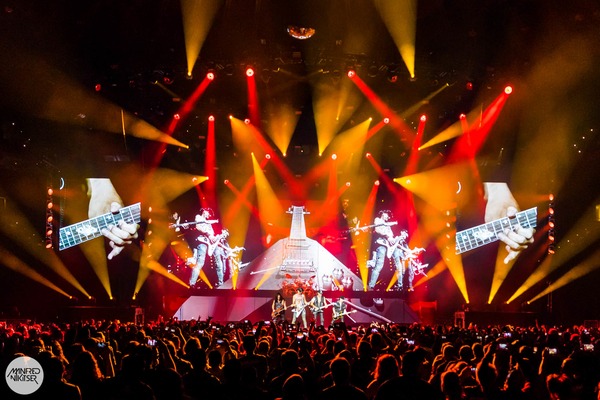 Multi-platinum German heavy metal band, Scorpions, wrapped up the first North American leg of the Crazy World Tour 2017 with Megadeth, alongside a large complement of Claypaky fixtures and MA Lighting's grandMA2 console.
A.C.T Lighting, Inc., the exclusive distributor of Claypaky and MA Lighting products in North America, supplied both of the North American leg's September and October 2017 dates, featuring a performance at New York City's Madison Square Garden, the first time the band played the iconic venue since 1984.
Lighting and Show Director Manfred Nikitser, of Manfred Nikitser Show Lighting, designed a "classical rock show" with "big, strong looks" guaranteed to please audiences who expected "a good rock show." "My intention was to meld lighting and video, so LED screens were a lighting element that actually immersed the stage with saturated colour" Nikitser explained. "Live camera integration was a big part."
 Nikitser selected Claypaky Scenius Spots, A.leda B-EYE K20s and Sharpy Washes for the tour; specifing 58 Scenius Spots as his main effects lighting fixtures. "I was very excited coming to the rehearsals and firing up all fixtures for the first time and seeing the overall impression of the rig with the LED screens," Nikitser recalled. "I have a pretty good feel for how things look and can tell within seconds if a fixture delivers or if it is a compromise. When I saw how everything worked together I was really satisfied. The strong saturated colours of the Scenius, the brightness with even the widest zoom, and the speed of the effects was very impressive.
The show ran on 2 MA Lighting grandMA2 full-size consoles. The team also had a VPU Mk2 as active and back up servers. He found the networking operation solution worked perfectly and calls the iPad Remote "one of the most important features in the grandMA2 family. I can't mention that often enough: It saves so much manpower and time, it makes the whole work and focus process much more exact and fast. I set up everything just by myself while the rest of the crew looked after other parts of the production."