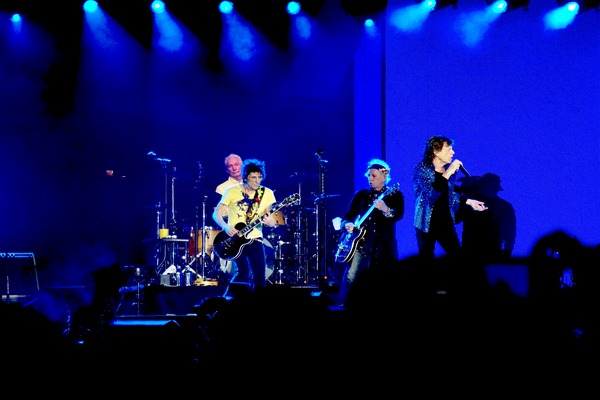 Since building the support structure for Mark Fisher's fire-breathing cobra at every show during the 1994-95 Voodoo Lounge tour, Stageco has been closely associated with The Rolling Stones.
In 2017, the world's most enduring rock 'n' roll band are back on the road with their No Filter, marking another collaboration for Rolling Stones Production manager Dale 'Opie' Skjerseth. His team include Creative Director Patrick Woodroffe and Set Designer Ray Winkler from Stufish Entertainment Architects.
Jeremy Lloyd of Wonder Works was tasked with co-ordinating the technical design elements and working with Stageco's Project Manager Hedwig De Meyer and R&D engineers Tom Frederickx, Patrick Martens and Kai Eppinger, to create 2 complete steel, tower and roof systems that have been leapfrogging around Europe since the start of September when the tour opened at Hamburg's Stadtpark Festwiese.
Spreading 60 metres wide, the resulting set features 4 monolithic 22 metres high by 11 metres wide LED video screens, a 28 metres long T-shaped catwalk and B-stage, and a bespoke, cantilevered, transparent-skinned 'roofette' that hovered above the band. Stefaan Vandenbosch, leader of one of the two outdoor Stageco crews alongside Kevin De Meyer, commented: "Each system fills 17 trucks. Working with our own team of 14 along with 15 local climbers and 15 stage hands, it takes two and a half days to load in with six fork lifts and a pair of cranes, and we are averaging about 18 hours to pull it all down and put back into the trucks to head to the next venue."
"Hedwig and I went to the first meeting together, and advised on aspects of the design," said Wicreations Founder Hans Willems, who gained his early industry experience as a Stageco employee. "There are only 14 shows in 12 cities, which is now fairly typical of the band's current touring pattern compared with the very long schedules of 10 years ago or more, and so because of Stageco's widespread commitments throughout the summer, we looked at what we could achieve in collaboration with each other."
"It's a genuine collaboration with Wicreations and it works very well," observed Vandenbosch. "All the pieces came in and connected with our systems perfectly. Of course, it helps that Hans has worked for Stageco and knows our procedures so well. They developed and fabricated the aluminium-clad transparent band roof that has its own drainage system to cope with rainy conditions. It's formed from four curved 12 metre long steel roof beams that each break down into two sections.
"The roof travels with us and we build it for each show, along with our towers, pulley beams, lifting cables and the trussing support system for the video screens, while the wind bracing system and motion control hoists [connected to the black steel base of the towers] are provided by Wicreations. The way the screens are rigged means that any wind pressure on them is borne by their supporting black steel towers. Personally, I love the 3D effect of the screens, they give the impression that the band are playing in front of 4 tall buildings."
Each of the roof's 12 metre sections accommodates 9 Martin intelligent lights that are key to Patrick Woodroffe's lighting design and travel in custom-built beams. Interconnected to the black steel superstructure of 2 of the 4 central video towers, the band roof was flown on the indoor arena shows and continued to be a major part of the performance area, with modified construction. For these arena performances, Stageco assigned an additional crew led by Martin 'Tinus' Beckers.
"For my crew, the run started with Munich's Olympic Stadium [September 12th] and Zurich's Letzigrund [September 20th], both of which I worked at earlier this year on the Robbie Williams tour and they are very easy stadiums from a load-in and building perspective. The Olympic Stadium in Barcelona is the last of my three shows and it's been a little more difficult because there is only one entrance and you have to unload everything outside, put it on small trucks and bring it in that way."
In his role as Technical Design  o-ordinator, Jeremy Lloyd was perfectly placed to appreciate the interaction of Opie's chosen task force. "All around, it was a great collaboration," he concluded. "We didn't spend a lot of time in meetings. A lot of it is about trust and knowing what can be done in the time. Because I know these people, I know what we can do."
The Rolling Stones' No Filter European tour ends in Paris on October 25 2017 when they will be the first band to perform live in the city's newly-opened U Arena.