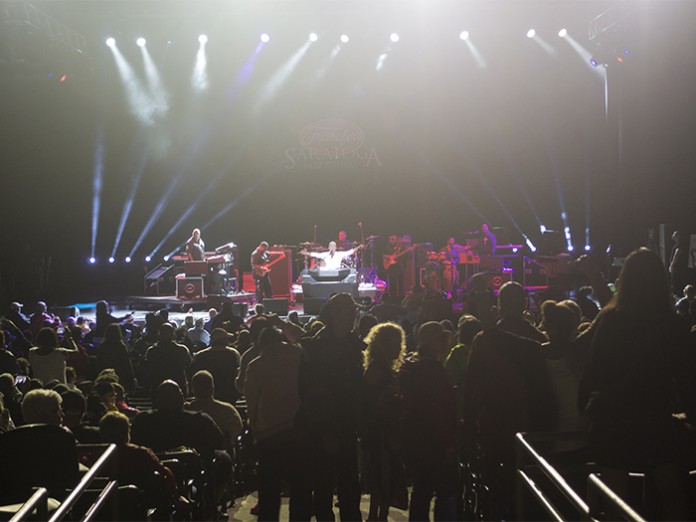 For the past ten years the New Jersey-based firm, Audio Incorporated, has provided the sound for the annual Freifhofers Saratoga Jazz Festival, with its Vice President Mike Sinclair mixing FOH for many of the acts.
"Jazz audiences are totally unforgiving," notes Sinclair. "With jazz, it's especially important that the PA sound transparent, as if you were listening to the band without a PA. Renkus-Heinz VL3 self-powered line arrays deliver that clear, transparent sound, which is one reason we chose them."
The Saratoga Performing Arts Centre is an indoor-outdoor amphitheater which Sinclair described as: "a concert hall without walls." The home of the New York City Ballet and Philadelphia Orchestra, as well as the Saratoga Jazz Festival, it's shaped like a curved bowl and rises 100ft high. "It's a difficult space to mix in because it has a balcony, which is unique for a shed," states Sinclair. "The old system we used for seven or eight years wasn't entirely getting the job done, so we decided to move on from that rig and update to Renkus-Heinz."
The system Sinclair selected for the 2015 Saratoga Jazz Festival consists of a 12-cabinet Renkus-Heinz VL3 "J" array on each side of the stage. "The 'J' array has constant curvature; none of the cabinets are at zero to each other," explained Sinclair. "And we rig it as high up as we possibly can so that we have the top box pointing up at the balcony and the bottom box pointing down at the third or fourth row, so it's almost overhead. That way, we get complete coverage, other than a few front fills."
Renkus-Heinz' VerSys VL3 is an integrated, self-powered, three way line array system with dual 1,000 watt, 12-inch neodymium woofers. It can deliver more than 133 dB SPL and requires minimum setup time. Smaller than comparable large-format line arrays, the VL3 works with Renkus-Heinz' RHAON system-manager software and is designed for applications like the Saratoga Jazz Festival, where outstanding sonic performance is a must, and sound level and coverage needs can't be satisfied with a conventional horizontal array.
"We got the vertical coverage that we wanted and the ability to manipulate it," recalled Sinclair. "With the VL3s, it seemed we could actually make the top half of the system louder and the bottom half of the system quieter so that we got even coverage from the front to the back of the house, including the balcony."
Sinclair likes to mix most of the Jazz Festival acts at around 103 to 105 dB SPL. "That's a good sweet spot for this kind of music," he explained. "Now, at the end of the day, with the headliner, you have to be able to go to 105 dB, with peaks at 110, and the Renkus-Heinz system is amazingly flexible in that respect. It retains its musicality through a very wide range of levels."
In the first year with a new system, one might expect the festival's artists and engineers to be skeptical, but that was not the case. "The reception for the VL3 system was unbelievable!" Sinclair exclaimed. "We got no pushback from the engineers or artists. In the jazz world, Renkus-Heinz is a name that has some 'juice.' Almost unanimously, the response was 'wow, I've heard about these arrays; this will be fun!' And all day long I had engineers coming in while I was mixing the show, and their reaction was just fantastic, exactly what we wanted: It sounds natural and transparent."
The Saratoga Jazz Festival wasn't Sinclair's first experience with VL3s. "I originally bought the VL3s to mix the opening ceremonies of U.S. Open Tennis," he recalled. "U.S. Open Tennis is held in a stadium of 22,000 people, and we use four arrays of four VL3s to cover it. I made carts for them so the arrays roll through the doors upright, and we tilt them back at the audience. I crossfire them so that no speaker is close to the audience; everybody is in the mid to far field, which allows us to get enough level to fill the place. Lenny Kravitz and Josh Groban both loved the system-two very different artists. The VL3s made it all sound fabulous."