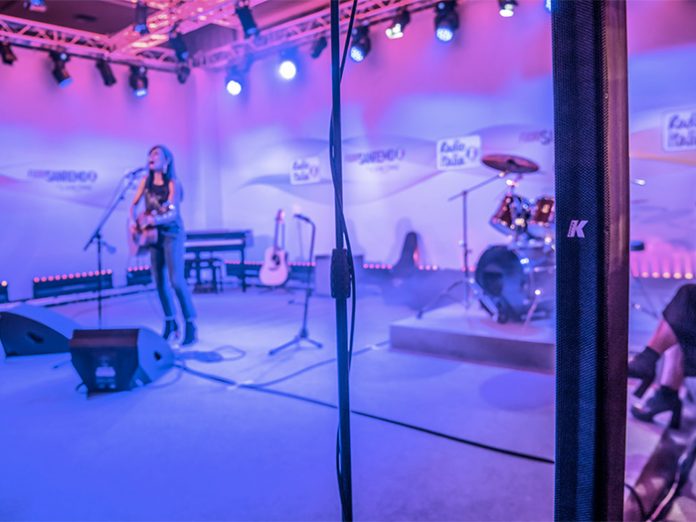 Every year around the beginning of February, music lovers and Italian performers alike descend upon the small coastal town of Sanremo, situated in the Liguria region of Italy, for the famous Sanremo Music Festival. The festival is an immensely popular, weeklong singing competition that takes place at the Teatro Ariston in the heart of the city and is broadcast throughout the nation.
While the TV show is the main attraction, the festival with concerts overtakes the entire town and live shows scattered throughout Sanremo. This year, radio broadcasters and TV stations alike-entrusted K-array for several intimate setups littered throughout the city that were broadcasted live during the festival.
K-array's Italian distributor, Exhibo, employed a Pinnacle KR402 portable system for the main PA and a Pinnacle KR102 used as side fill with the tops of the systems featuring closely-spaced, full-range transducers without horns, waveguides or reflex for wide horizontal coverage and narrow vertical coverage for radio and TV airtime for the broadcast company, Rai. A KF12MT and a KF12P, both wedges, were used as stage monitors for international acts like Michele Nuo, Ermal Meta, LP, Marianne Mirage and Lele, accompanied by Social Band, the resident group of Fort Santa Tecla.
Rai also hosted VIP guests of the festival in an exclusive lounge at the Fort where they could watch the competition live from the comfort of plush seating which were lined with meters of Anakondas on both sides supporting the main PA, a Pinnacle KR202 system.
"The live shows and DJ sets boasted high-quality quality audio, expertly coordinated by Exhibo," exclaimed the Rai staff at Fort Santa Tecla. "The performers really rocked, the guests had a great time so we are really pleased with the outcome."
At another location, Radio Italia hosted Fuori Sanremo by Lancôme at the Grand Hotel De Londres, in collaboration with Real Time and Vanity Fair, which was attended by all the central figures of the 2017 festival. Radio Italia djs Mario Volanti, Paola Gallo, Fiorella Felisatti, Daniele Bossari, with the special participation of Enzo Miccio, interviewed artists in the competition and guests of the festival using the sound reinforcement of K-array's Pinnacle KR202 portable system and an array of Anakondas.