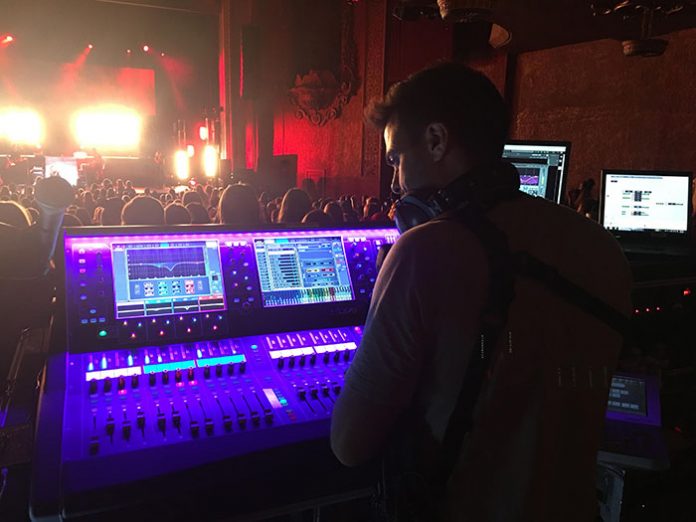 Sabrina Carpenter's ongoing The De-Tour is taking the American singer, songwriter, and actress to over 30 venues across the US and Canada this summer. The tour uses venue-provided racks and stacks but carries a 32ft video wall and an audio package that includes an Allen & Heath dLive S5000 Surface and DM64 MixRack for FOH.
FOH engineer Jason Brandt created his dLive show file prior to rehearsals and made use of dLive's Virtual Sound Check (VSC) feature and a recording made with Waves Tracks Live. Brandt said: "I continue to track every show because the tour has taken us to a variety of venues which are all very different sounding environments, and the VSC really helps with setups."
He noted that The De-Tour includes two opening acts who use the dLive for both FOH and monitors. Brandt set up separate show files for each opening act to allow them full flexibility with their mixing needs while maintaining his dLive setup for Sabrina.
Brandt said: "Sabrina is very talented and her music is diverse. She really flips through the genres." To help bring Sabrina's music to her live audiences, Brandt uses a combination of Waves and other external effects along with the dLive's internal harmoniser, hall reverbs and delays. "She uses a lot of lush reverb with long tails in her big songs," he noted.
Brandt uses a dLive scene to set up these effects and balance the mix for each of Sabrina's songs. He manages the tour's 48 inputs, six recorded tracks, multiple effects returns and DCA masters with dLive layers, keeping critical controls on top at all times. "I'm using scenes to help me deal with the varied environments and different songs," he says. "And I have a 'show layer' where I can pick off little things I need to touch during the show."
The tour's dLive S5000 Surface includes a Waves card and an AES3 I/O card. The DM64 MixRack includes a Dante card. These audio networking modules allow Brandt to quickly set up his various external effects. "There's a lot going on, connection-wise," he said. "But it's pretty easy to set it up – very little patching."
Brandt commented: "I'm hearing the console more on this tour and I'm very impressed with the quality. So, even in a lot of very different venues, the sound is great. I feel like we're punching way above our weight!"