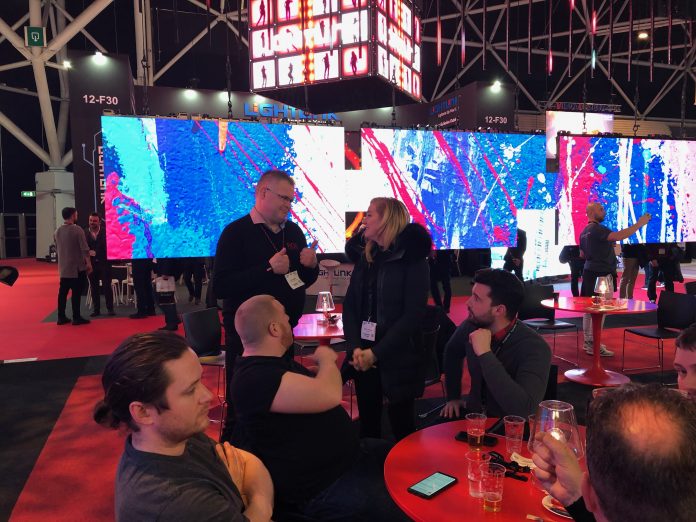 ROE Visual will present new and existing products in an inspirational setting at the Prolight + Sound Exhibition, aiming to showcase its products creative capabilities.
The stand will allow AV specialists and designers to spike their inspiration. ROE Visual looks forward to the Prolight + Sound show in Frankfurt, which is held from 2-5 April. The team of ROE Visual Europe will be present to lend their expertise and support. Products in highlight ROE Visual will be presenting its latest product releases and LED screen innovations. Like the Diamond DM2.6 LED screen that offers a lightweight, affordable solution with a vivid viewing experience.
On showcase is the full-fledged Black Marble LED system, designed as a spectacular bar unit. Premiering at the show is a large screen of the ultra-transparent Vanish V8 LED panels, offering a truly artistic solution to capture the audience attention. The stand will also feature the Sapphire platform which is a NNP solution in a native 16:9 resolution. ROE Visual will showcase the Air Frame touring solution in combination with the Carbon series. All screens will run on ROE Visuals' own Z6 processing platform, while the content for the whole booth runs on a Watchmax media server by Dataton.
In cooperation with Brompton Technology, ROE Visual will show an HDR solution in a sneak-preview set-up, combining Brompton Tessera SX40 LED processing power and the superb Black Onyx LED screens. The presented solution is planned to be released mid-2019 but already on display at ROE Visual.
ROE Visual Europe has appointed Erik Baum to lead business development in the D A CH region, strategically strengthening its sales team with an experienced LED expert. Although already a familiar face in the AV Industry, ROE Visual will host a welcome reception at the stand to introduce Erik to clients and users.
ROE Visual offers global support through its EU and US-based sales and service centres. The company enjoys relationships with leading global rental companies and other notable partners.