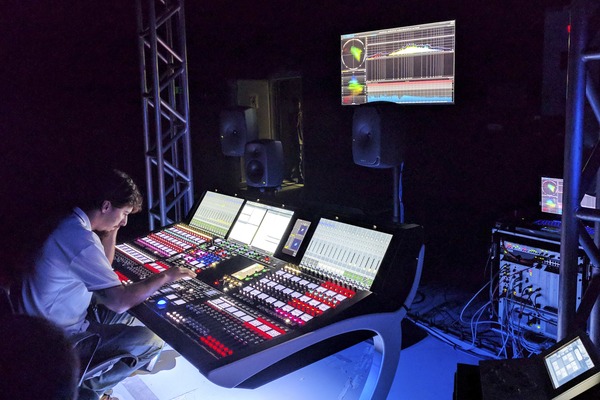 Growing exponentially each year, during 2017, Rock in Rio was supported by the first use of a Lawo mc²96 Grand Production Console at a large-scale music festival.
An audience of 45 million viewers in 15 million households across Brazil, Globosat is the largest pay TV operator in Latin America, and the market leader in Brazil. Its use of the mc²96 console was part of a rental package of equipment, support and training provided by Lawo for the event.
Through Latin American system integrator and Lawo partner LineUp Broadcast Systems, Lawo provided Globosat with a 40-fader mc²96 fitted with Ravenna, AES and MADI Cards, along with a Sample-Rate Converter and a Compact Core for the console. The console was integrated with a Lawo Nova73 Router using RAVENNA. The setup was able to take advantage of a legacy Globosat structure resulting from the company's involvement in the Summer Olympics broadcast from the Barra Olympic Park in 2016.
"In 2015, we made the first live broadcast with 4K and Atmos to some of our viewers and this time we're trying new mixing ideas, positioning some instruments in 3D with very interesting results," explained Gabriel Thomazini, Co-ordinator of Audio at Globosat.
"For the Rock in Rio festival, we developed a specific workflow with a remote mixing room at our headquarters, 14km away," he continues. "We received 128 input channels from the Mundo stage and 64 from the Sunset stage – we chose which stage we wanted to mix just by changing productions. For transport, we used Lawo V_link and RAVENNA-based streams."
Lawo's V_pro8 8-channel video processor was used to provide HD SDI to a Blackmagic Design HyperDeck Shuttle SSD recorder and the system's embedder. "Rock in Rio gave us our first opportunity to mix with the new mc²96 Grand Production Console," Thomazini enthuses. "It is based on the same system as mc²36 and mc²56 MkII, but adds interesting possibilities to work with immersive audio formats, like Dolby Atmos. We are mixing in 9.1 (5.1.4) to deliver for the Dolby encoder the immersive content and this console has the necessary flexibility to configure specific monitoring paths from the encoder outputs, for example. We can check the results after encoding in 5.1.4, 5.1 and stereo, just configuring a user button. The mc²96 has several improvements with a dedicated monitoring section and Up/ Down control of 3D panning.
"To help with our mixes, the console's Waves integration is a must," he adds. "We can use the plugins to provide our engineers with different sonic possibilities, improving their mixing arsenal. With automatic routing and recall of rack configurations and parameters, we are able to create specific setups for each production."
The Globosat setup also used a pair of Sound Devices model 970 64-track Dante and MADI-equipped multitrack audio recorders. Audio monitoring was taken care of by a Genelec system. "Our monitoring system is based entirely in coaxial speakers," Thomazini explained. "We are using four new Genelec 8341A monitors for height information and a 5.1 system, comprised of 8351A speakers and one sub. We've aligned this setup with the new version of Genelec Loudspeaker Manager 3.0 software."
Supporting an immersive approach to the broadcast sound mix for Rock in Rio, Globosat also received support from Sennheiser. "Sennheiser is helping us to pick up crowd noises with Esfera microphone systems and the new Cube setup from the 3D Ambeo concept," Thomazini confirmed. "It is important to me bring a different approach to break pre-conceived ideas. It's amazing be surrounded by sounds and the crow which you should listen.
"Globosat utilises Lawo technology to maximum effect and we're delighted with the highly effective support delivered by our Brazilian partner, Line Up, especially on this project,' said Lawo's Sales Director for Brazil, Chas Rowden. "Globosat is technically and operationally very sophisticated, and an early adopter of products that match its vision and objectives. We enjoy an exciting, close and special relationship through the free flow of ideas and discussions, in realising projects such as Rock in Rio."