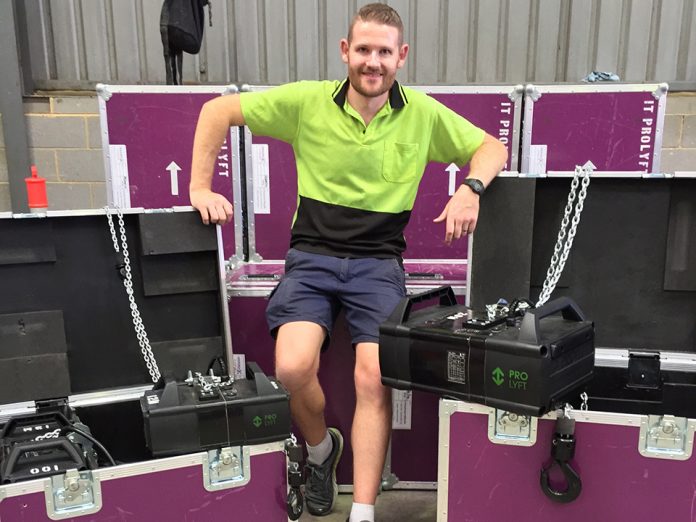 Resolution X, covering Australia with hire bases in Melbourne and Sydney, strives to provide the best quality rental equipment backed by the best people and service. Based on that goal, they have become one of the largest providers of rental lighting and rigging equipment in Australia. They are leaders in bringing new and innovative equipment to market and can boast on a dedicated team that is enthusiastic about all challenges.
Tim Hall, Managing Director of Resolution X explained: "Resolution X have always prided themselves on implementing industry best practises, especially when it comes to safety. Therefore, adding chain hoists with a good double brake system to our hiring stock was a must. We chose the ProLyft series hoists because of their build quality, double brake system and local support network. The Aetos hoists stand up to the rigors of life in a busy production company but it was having a local dealer and support team that made the choice easy for us".
Jason Swavley, Account Manager of Design Quintessence Melbourne and Tony Peaker, Product Manager are glad to Support Resolution X as ProLyft Service Point for Australia. "That's the general idea behind the network of ProLyft Service points. We not only supply our customers with stock and spare parts, we're also there to provide technical and maintenance support when needed, we have all the knowledge in-house to do so".
"We hire to a lot of Corporate AV companies working in ballrooms" added Sam Holloway, Rigging Manager of Resolution X, "most of the time they're dealing with a restricted load limit in the roof and don't need to lift heaps of gear. Therefore we also have 250kg hoists on stock, these are ideal for this type of client. The fool-proof operation, jam-free chain guide and limit switches are a bonus."
Resolution X stocks a large quantity of the 1000kg Aetos hoists, meeting the German BVG-D8+ hoist classification, these hoists are fully equipped to meet the future demands of the entertainment industry. They also stock the 250kg hoists for rental purposes.