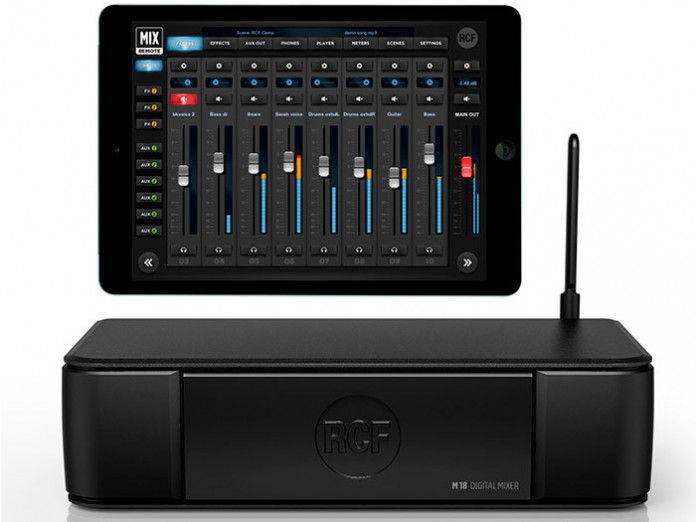 RCF UK will present several of the innovations that lit up the company's international stand at Frankfurt Prolight+Sound recently, when they arrive at this year's PLASA Focus (Leeds Royal Armouries Museum, May 10-11).Occupying stand #N-D20 the showcase will include the following:
HDL6-A: The new mini-format entry to the composite D-Line line array series, this active 2-way powered system is partnered by the HDL6-AS sub. Housing double 6.5" bass drivers the HDL6-A is run in combination with 1.75" compression driver with a 2" voice coil on a 10° x 100° waveguide. The HDL 6-AS is a 12" bass reflex enclosure, designed to be flown with the full range system.
HDL50-A: At the other end of the spectrum, this large-format, three way active line array module is the flagship of the D-Line range and contains 2 x 12" bass drivers, 4 x 6.5" mid-range and 2 x 3" compression drivers, offering maximum 10° splay angle. It is partnered by the HDL53-A flyable bass extension, containing three 12" bass units, a choice of subwoofer (SUB 9007-AS or SUB 9006-AS) and a complete integrated control package. This was on active demo in Frankfurt where it won great acclaim.
NXL44-A: This is a unique and powerful two-way line source, with the sound delivered from three 10" neodymium woofers and a 1.4" driver with 3″ voice coil on asymmetrical waveguide. All are tuned to deliver uniform coverage and an extended frequency range. Precision controlled by an on-board DSP and driven by a two-channel digital amp, the NXL44-A delivers a natural response and high SPL for live sound reinforcement.
TTL6-A/TTL6-AS: The TTL6-A full-range three-way active line source is now coupled with the new TTL6-AS sub, to deliver exceptional power and drive the LF down further to 35 Hz. Housed in an identical enclosure, the new TTL6-AS can also be flown, and contains 1650W Class D switching supply and RCF's proprietary RDNet processing.
M18 DIGITAL MIXER: The new M Series mixers represent a fully integrated solution for musicians, offering internal power supply, integrated Wi-Fi access point and antennas: the only items musicians need to carry are their instruments. They can plug up to 18 channels of audio into the unit, hook up to the speaker system and control the whole band mix from their iPads (including six balanced Aux mixes).