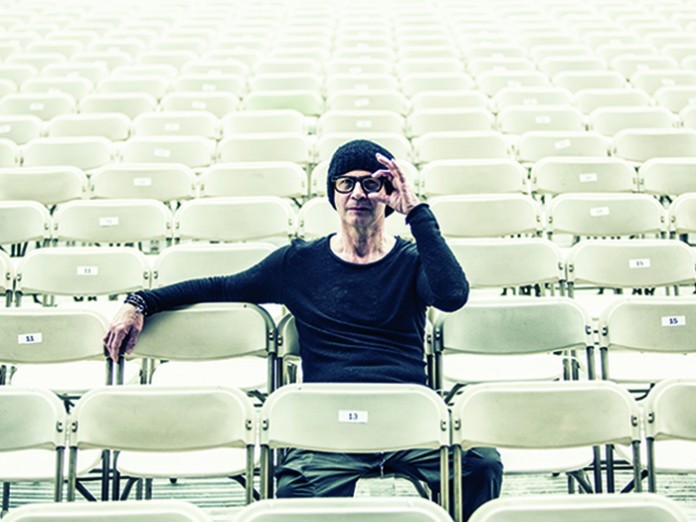 'As a child, what did you want to be when you grew up?' is a common interview question, but few give an answer that actually becomes reality. World-renowned Lighting Designer, LeRoy Bennett has memories from the age of four, which he knows played a part in how his life turned out today. TPi met up with the LD in Melbourne, Australia, during the Entech Connect show, to find out what makes him tick. The answer begins with music…
Anybody who is anybody in the live touring market will have come across the name LeRoy Bennett – famous most recently for his work with Beyonce, Bruno Mars and Lady Gaga to name just a few – but since he has never spoken out publicly about his life and career, few may know his back story and just exactly how he got his first big break, the legend… Prince.
Taking to the seminar stage at Entech Connect for his keynote presentation, Designing and Creating Emotions, it's clear from the outset that Bennett is a humble and charismatic character, almost as if he doesn't quite realise how much he is in fact admired by his peers. Speaking in front of a virtually full seminar room, it was obvious he is more used to being in the background rather than the foreground, his softly spoken tones and down to earth demure was at first somewhat reserved, but as members of the audience sat listening intently, at times gasping in amazement and at others laughing in all the right places, he soon settled into his well-earned place in the limelight. Born into a musical family, his mother a trained opera singer, Bennett was heavily influenced by music – classical in particular – from a very young age, and he credits this as a pivotal stimulus in his life. What made music different for Bennett though, was his ability to associate the music with images, and quite seamlessly. He said: "Even as far back as three or four years old, music has always been a visual thing for me, I had very vivid images of things when I heard something."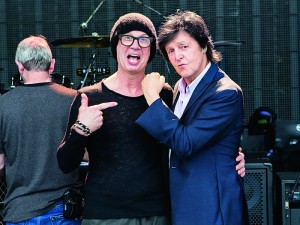 A combination of his mother's passion for singing and father's design sense and creativity shaped Bennett's thoughts and visions of the world, how he listened to music and how music became a visual art form in his mind. "All of these influences drove me in the direction of where I am now, although at the time I didn't really have an inclining about what was happening. It probably didn't make sense until I was about 19 years old," he continued.
A few years prior to that, aged 15, Bennett witnessed his first concert, Three Dog Night, accompanied by his father. "I'd never been exposed to a large pop concert in an arena. It seemed like a huge crazy world, everyone was older, had long hair, was smoking pot. It was daunting but also intriguing. I was totally transformed by that world and it was like having a light bulb moment. It moved me so much that it changed my life."
Living by a mantra of 'I love music, I live it, breathe it, listen to it everyday', naturally became a concern for his parents as Bennett graduated from high school. But the choices he made did turn out to be the right ones. After meeting a band from Rhode Island, who were based in Washington DC and touring the East Coast through a friend, he became their roadie for 12 months. During that time, Bennett was shown how to set up a basic light show and how to control it from a console. He said: "At that point I realised I could perform musically without actually being onstage, which is where I prefer to be."
Upon returning home to Rhode Island, he took a job in a small lighting company called Polico and trained to be a technician, before leaving home again a year later, to take up a position at Zenith, a British company based in LA. "The director at Zenith knew I wanted to be more than a technician," said Bennett. "He said to me, 'the next client that comes to us in need of a designer, I'll put your name forward'. The next thing I know, that moment had arrived, the director told some white lies that I had experience, which was scary, but I knew I had the passion to do it and knew I'd be able to do what was necessary to get the job done. The artist was Prince.
"The first week with Prince was a nightmare but actually I was very lucky to work with him off the back of nothing and there's nobody harder to work with than him, he's the most challenging artist I've ever worked with, but he's also the most rewarding." After a settling in period between the pair, Prince allowed Bennett a free reign over design, as long as it incorporated some of his visions too. "Prince taught me a lot and pushed me further than I thought I was capable of. I don't think I could have been any luckier in that part of my life, although at the time I didn't realise it," he explained. Bennett continued to work extensive with Prince throughout the '80s and '90s.
Another artist Bennett holds close to his heart is Trent Reznor, frontman of NIN, who he has been working with for 15 years. "He's an amazing guy, much like Prince, very similar in terms of their music and their thought processes, how they perceive things happening. A perfectionist, musical genius and a major tech head."
His work with Prince put Bennett on the map, as Prince's popularity grew, Bennett's reputation grew. Other artists came to see the Prince shows and they began asking him to work with them too. Other significant acts included The Cure, Rammstein and then, Sir Paul McCartney. "I've been working with Paul for 12 years now and the great thing about him is he likes to do gigs in different places, different arenas, alternative settings and that's a real challenge."
Challenge, is ultimately what leads Bennett to take on a particular project, whether it's a different kind of artist, a different kind of music, a good song is a good song and Bennett appreciates good talent. "I've worked with true artists, great musicians, great singers, songwriters and I've been very lucky to work with these people throughout the majority of my career. I'll take on anything as a challenge, things that I have never done before."
One particular challenge Bennett took on with McCartney was the NFL Super Bowl Halftime Show in 2005. "This was the first time I'd done anything of this scale so the pressure was on, I had to design something that could be put up and set up on the pitch within six minutes," he said. "The key in that situation is not to panic. I've really learnt that there's more than one way to get the end result. You have to understand the situation, be positive and see the light at the end of the tunnel… When I hit the power cable at the Super Bowl and everything went up, I could finally breathe again."
Taking on project after project and making each and every one different is no easy feat, and something which Bennett finds difficult to describe because, "what I do is not a formula, and that is why I can't explain how the process happens. I can explain that certain things inspire me though, things such as fashion and architecture, and I absorb all of that stuff and use it in my designs." It's obvious the influences behind Bennett's work are important to him, as he speaks about them so passionately. When talking about any one of his creations he becomes animated, listing detail after detail, indicating that he remembers each and every project on an individual level.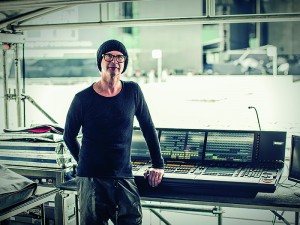 In the past Bennett has stated that production design for him is about 'architectural emotion'. "Architectural emotion is… it's architectural to the lighting side of it, to the structural side of it. It's when you see something and it evokes some emotion, relating to the music, the artist, the vibe of what you're trying to portray in any project. It's not just a structure for a structure, it's for a purpose, there's a reason why it looks the way it does, it's an expression of what you're trying to present. So it is an emotion because music is an emotional experience and it's about piecing those things together," he explained.
Having built up so much experience over the years – having worked independently with his own company, Dakana Design – Bennett was keen to share this as a way to educate the younger generation and to that end he founded Seven Design Works in 2013 with Cory FitzGerald and Tobias Rylander, who together create a vast variety of concepts and designs for all levels of artists. "I started Seven with Cory and Tobias to be able to work with the upcoming bands and basically just to do a lot of different things. Right now, there's a cross pollination, we collaborate with each other and we bounce ideas off each other," said Bennett. To date, the most notable collaborations are Bennett and FitzGerald for the Bruno Mars, Moonshine Jungle tour and the Balenciaga Fashion Show in Paris, commissioned by Alexander Wang for Bennett and Rylander.
Seven will expand in the future as more people are brought onboard, programmers and directors and those people will be coming in to mentor others. "Somebody once described it as me being 'the master chef' and nothing made by the other chefs goes out to the table until I've tasted it," laughed Bennett.
There are plans in place to extend Seven into Asia too, with the formation of a company in China. "I've always had a fascination and a love for China, I actually live there part-time now too," said Bennett. "The music scene and touring industry is pretty new in China compared to the rest of the world, it's almost a new frontier and that's a challenge for me. Not only because it's a new frontier for them but for me, it's dealing with the challenges of how things get done in China. The reason I'm setting up the company is to mentor, develop and educate young Chinese people and companies to work in a Western way so that they understand about being more efficient in using technology, how to use the technology and how to use it in a creative way too."
Speaking about his own creative path and looking ahead to the future, he noted that there are many projects in the pipeline. However, possibly the most exciting is something that he has been sworn to secrecy over. The big unveiling will be in the next 18 months, and it's something he describes as a game-changer.
By the time the interview – which took place after the seminar in a more casual environment – drew to a close, there was definitely a sense that TPi had been given the privilege of meeting the real LeRoy Bennett. Though his reputation may precede him, the man behind the name is a true genius when it comes to lighting design yet he remains admirably grounded. Concluding, when asked why he chose now to speak out about his life story for the first time: "It was a moment of weakness," he laughed. "Normally in these situations, I'm busy or it's just not something I feel comfortable doing. But on this one, I didn't have any hesitation, it just seemed like the right thing to do. I was like, 'ok, I'm ready, let's do it'."
TPi
Photos: MJ Kim