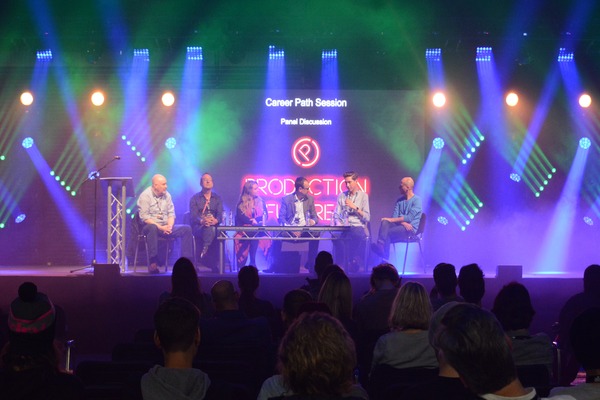 Following a hugely successful first event in 2016, Production Futures returns to Production Park in Wakefield on 11 October 2017.
Aimed at students and young freelancers, Production Futures, which is free to attend, gathers together live event industry giants to share their knowledge and experience in talks, demos and workshops, allowing an insight into the dynamic live production industry and the career opportunities and development it holds.
Whether visitors' interests lie in lighting, rigging, audio, video, tour management or event production, Production Futures promises to be a must-visit event for 2017. Hosted at Production Park's expansive facility, home to Brilliant Stages, Perry Scenic Creative, Litestructures and world-class production rehearsal space LS-Live – the day will see the industry's biggest brands exhibiting and demonstrating their latest products and technology (see below for current line-up).
Education and careers advice is a key part of Production Futures, with the likes of UK Music hosting seminar sessions on the day and Backstage Academy offering visitors the chance to investigate further education opportunities, based at the heart of Production Park.
The TPi Breakthrough Talent Awards will also be presented at Production Futures. Created in 2016 to acknowledge the hard work of up-and-coming members of the production industry, the awards are open to those aged 30 and under involved in lighting, set or video design, front-of-house and monitor engineering, backline tech, production co-ordination, stage and production management and rigging.
This year's judging panel will be made up of a selection of industry experts including Dick Tee, award-winning production manager and founder of EnTEEtainment, whose clients include Glastonbury and Reading festivals, Radio 1's Big Weekend and the BBC Proms, Kelly Murray, editor of TPi Magazine, experienced production manager Ryan Esson, who has worked on events including Parklife, Snowbombing and Festival N°6 and Muse tour director Glen Rowe.
Lee Brooks, Production Park CEO commented: "We were delighted with the success of the first Production Futures event in 2016 and we're looking forward to welcoming more visitors and an expanded exhibitor line-up to Production Park this year. The wealth of industry experience and technological innovation hosted at Production Futures makes it an extremely valuable event for those looking to develop their careers in the early stages, or to find out more about studying and gaining skills."
Justin Gawne, TPi Magazine's Chief Executive said: "Production Futures is a unique event for the live production industry, giving a window for the next generation of talent to see the wide range of opportunities that are available. With touring becoming the main source of revenue for artists, the requirement for top class creatives and crew has never been higher. Production Futures gives the insight and hands-on experiences to inspire future touring experts."
For more information on Production Futures visit: http://www.productionfutures.co.uk