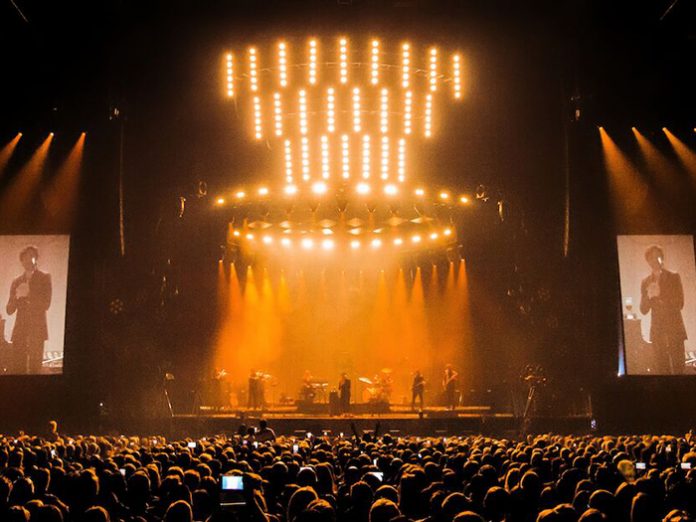 Production AV supplied the camera, projection and IMAG screen solution for Jack Savoretti's Wembley date in May 2019.
"We had just a seven-day turnaround to design and deliver the camera and screens package to Savoretti's tour team, managed by Production Manager Neil Anderson," explained Pete McCrea, Production AV MD. "As this was the big one – Wembley! – they wanted to ramp up the production and include video to enhance the audience experience. David McIntyre had created a real visual spectacular with the lighting, and they wanted to enhance this by relaying live on-stage footage as well as pre-recorded content to two large IMAG screens."
Production AV supplied a pair of 11 ft. x 20 ft. portrait screens for IMAG, with 20,000 lumen Barco projectors. Switching was achieved using their Blackmagic ATEM 4k PPU, with a pair of Sony HDC1500 studio cameras on 95x lens at FOH and second camera on stage, Agile Arc360 PTZ heads and Marshall minicams. There was a requirement for black and white effects for the first song, as well as the playback of a show opener VT.
McCrea served as Project Manager and Racks Engineer for the show, alongside his colleagues Anna Sadler as Vision Director, and Ste Webster and John Bowdler-Thompson as Camera Operators.
"It's testament to our talented team at Production AV that we managed to put together such a strong kit package and creative solution in such a short amount of time – I'm very proud of them all and the results were fantastic. Anna, Ste and John made it look really awesome," said McCrea. "It was brilliant to be working alongside our friends at Liteup, which provided the lighting and rigging, and the great team at audio supplier FE Live. On-site, it really came together as a collaborative production.
"Thankfully, Wembley is a venue we're used to working in, so the load-in and delivery of the production was efficient!"
The project followed hot on the heels of another major London job, where Production AV supplied and operated a similar package for the annual Teenage Cancer Trust series of concerts at the Royal Albert Hall, featuring performances from Take That, Rudimental and The Script.