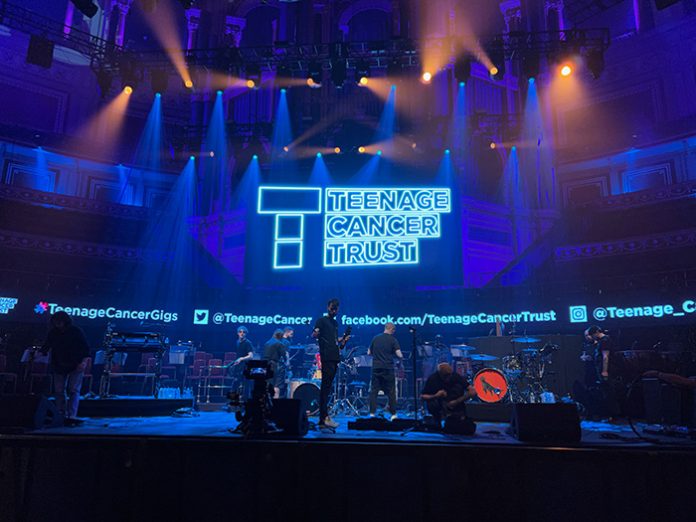 For the second time Production AV supplied kit and crew for the concerts in aid of the Teenage Cancer Trust (TCT).
Taking place over seven consecutive nights at the Royal Albert Hall, the series of live music and comedy gigs were performed as fundraisers for the TCT, which provides care for people aged 13-24 with cancer. 
This year's set up comprised Production AV's Desay M6 LED panels as a central 8m by 4.5m screen flown above The Royal Albert Hall's iconic stage and a large, curved 23.2m by 0.9m banner of LED screen across the back of the main stage, to help drive donations. This was supported with a camera package for the relay of real-life stories and live performances to the screen.
Production AV's Sony Studio camera channels and Agile ARC360 Lite PTZ cameras were out in force, with footage mixed on the company's Blackmagic ATEM 4K PPU. Peter McCrea and his team used their Barco S3-4K for switching and disguise 2x4pro media servers for the content playout. 
McCrea served as Project Manager and onsite Crew Chief, taking the helm with pre-production at Production AV's HQ in Cheltenham, load-in at the Royal Albert Hall and on-site set up. 
TCT's Camera Director, Phil Jennings oversaw the live vision mix for the 2022 shows, and the Production AV team worked closely with him to map out the best shots and content to be displayed on the Desay M6 LED panels around the room. 
"Everything was ramped up this year, with a total of eight camera inputs used for most shows, as well as adding a Steadicam and operator, and Furio camera system, for The Who's show on Friday to get the best footage possible," McCrea continued. "All of the footage was also recorded for promotional use following the week of events."
The Production AV team was also proud to have delivered the project for the entire seven nights after some team members tested positive for COVID in the run up to the event, including Pete McCrea himself. "We have a really dedicated team, who stepped up to ensure we could maintain standards and realise world-class visuals and I couldn't be prouder of us," McCrea said.
"It was just fantastic to be a part of these amazing series of concerts that bring so many incredible artists together to generate funds for such a fantastic cause," concluded McCrea. "We know it raises an amount of money that really has a positive impact on young people living with cancer, and their families. We often had to stop and catch ourselves as we broadcast people's real-life stories into the room as it was very moving. Production AV is proud to support the Teenage Cancer Trust on this project and committed to bringing our experience and expertise to brilliant projects like this."