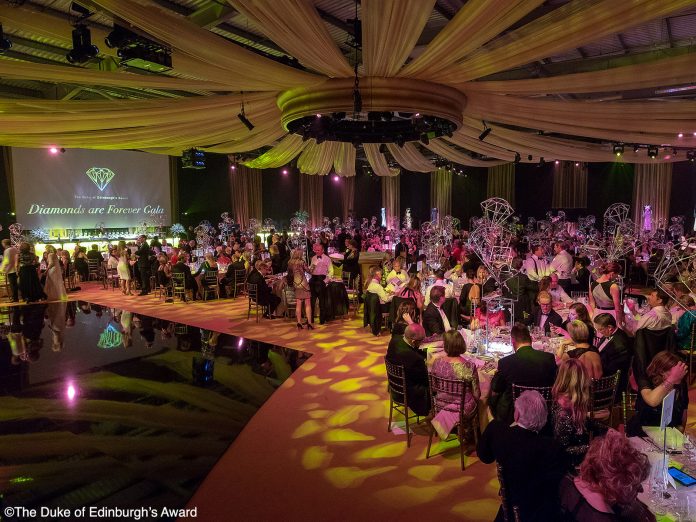 This year marks the diamond anniversary of The Duke of Edinburgh Award, the charity that challenges young people through volunteering, physical tasks and expeditions, and is being celebrated with a variety of special fundraising events and initiatives.
Produced by Jeremy Hartley of Entertainment Industries, a Diamonds are Forever gala was held in early June at the Stoke Park venue in Buckinghamshire, and featured a dinner, entertainment and a performance from Sir Tom Jones. Acclaimed creative Nicoline Refsing of Rockart Design provided production design, having previously worked on several major events including The BRIT Awards and Eurovision, while Steve Greetham, PRG XL Video's Special Events specialist who had delivered event technology for the Queen's Diamond Jubilee Concert, supplied video and lighting technology for the event.
An array of James Bond themed imagery characterised the event, with guests being greeted by a selection of 007's famous vehicles outside the entrance and a row of sculptures of Bond girl dresses arranged on glitter plinths, which were lit using LED fixtures from PRG XL Video.
Greetham used six pairs of Panasonic 21k high brightness projectors and content fed from a Catalyst media server to transform the venue's large arched windows into shaped projection canvasses, which displayed graphics and logos from supporters of the event. Staging and rigging for the lighting and video were supplied by Blackout Ltd, with Philips Colorblast LED uplighters lining the walls around the hall, creating decorative effects on the golden drapes.
Lighting for the event was managed by PRG XL Video Account Manager, Mat Ilott, with Tony Fagan acting as lighting crew chief on site. Upstage PRG XL Video supplied a large 11mm resolution LED screen which formed the backdrop for the live performances. Downstage, a roller projection screen from Blackout dropped down to show playback content including information films, a further wall projection screen from Blackfriars Scenery mirroring the content. To capture the live performances PRG XL Video supplied a four-camera Panasonic portable production unit paired with Sony HD cameras. A recording of the event was also captured for later use by the Duke of Edinburgh Award.
"We were delighted to be asked to supply technology for this gala event," commented Steve Greetham. "Whilst events of this nature always present some specific challenges, working closely alongside experienced companies like Blackout make the production run more smoothly."
Nicoline Refsing, Founder and creative force behind Rockart Design, added: "It's a huge privilege to be working on this incredible event with Jeremy and The Duke of Edinburgh Award team. I started with the essence of The Duke of Edinburgh Award's brand to come up with the event design, so that all the elements integrate to give an exciting 360° total theatre experience."