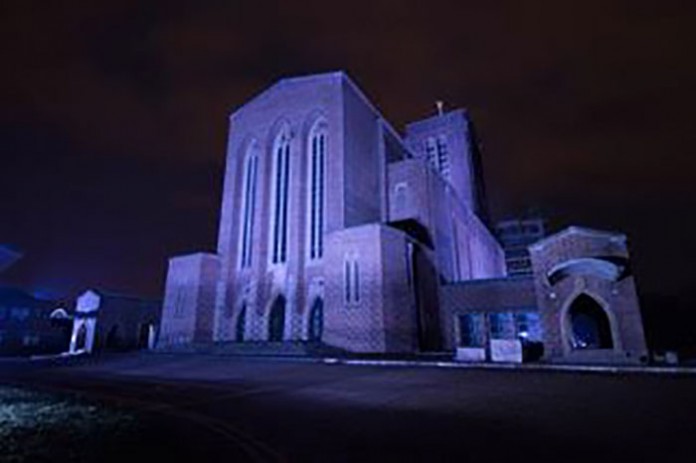 To mark World Autism Awareness Day on 2 April, PRG XL Video partnered with The Jigsaw Trust to light Guildford Cathedral blue for the "Light It Up Blue" campaign. The campaign sees buildings and landmarks around the world changing to blue to raise awareness for Autism globally and to kick off International Autism Awareness Month during April.
From the evening of 31 March to Monday 4 April 2016, the night-time floodlights which accentuate the modern Guildford Cathedral building were changed from orange to blue – the signature colour of the Autism Awareness campaign. To achieve this change, a team of staff from PRG XL Video visited the cathedral on 31 March to switch lamps in the floodlight fixtures in the grounds of the building, and up on the roof. This is the fifth year PRG has worked with The Jigsaw Trust to make this change at Guildford Cathedral, and the Dean of Guildford, The Very Reverend Dianna Gwilliams, the Jigsaw Trust's CEO, Kate Grant, and PR & Fundraising Officer, Steven Morgan, visited the venue to see the changeover being carried out.
Kate Grant commented: "My hope is that World Autism Awareness Day will help highlight the work that organisations like Jigsaw do, and we are immensely grateful to PRG XL Video for their ongoing support in helping us shine a light on autism."
PRG XL Account Manager, Cameron Bannister led a team of four crew – Bradley Stokes, Christopher Ashton, Simon Port, and Russell Harris – changing the lamps. The work included some height work for the team, climbing on to the cathedral roof and tower to make the changes.
PRG XL Video Event and Development Director, John McEvoy commented: "We're pleased to continue our long-running support to the Jigsaw Trust and Guildford Cathedral in raising awareness for the Light It Up Blue campaign, and help to give the World Autism Awareness Day a higher profile."