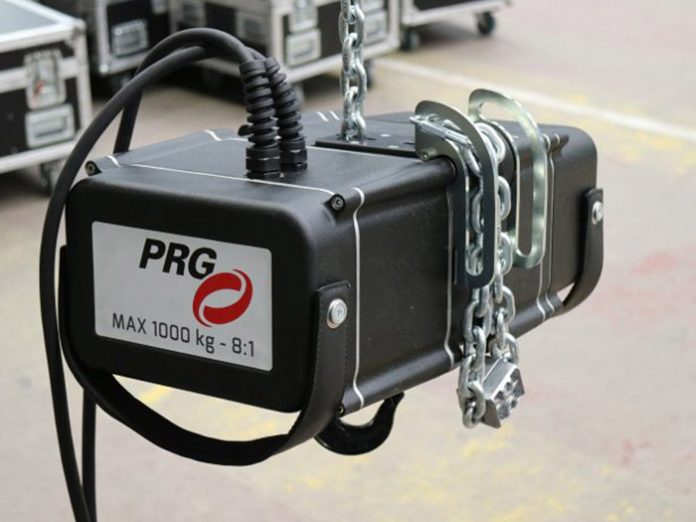 PRG XL Video, the UK operation of Production Resource Group, LLC, has announced a significant investment with Area Four Industries U.K. to upgrade its hoist stock with a large number of the new EXE-Rise 8:1 range of chain hoists.
The selection of the EXE-Rise units followed extensive evaluation of different hoists by a team of PRG XL Video's rigging experts including Chris Walker, Account Director, Q Willis, Head of Rigging Services, and Richard Gorrod, Head of Event Services.

This new version evolved from the already successful EXE-Rise electric chain hoist family and is designed with a WLL of 1,000kg and a safety factor of 8:1. This new model includes all the key features and more of the existing product range and retains the same compact body as the popular 1120kg 5:1 Hoist.
During the development of the new EXE-Rise hoists, PRG XL Video worked with Adam Beaumont of Area Four Industries U.K. to give feedback on the design and specifications.

"We are pleased to take delivery of our first batch of the new EXE-Rise chain hoists," commented Paul Weaver, PRG's Head of Asset Management, EMEA. "We selected these hoists to meet increased safety requirements across Europe, which is of paramount importance, and they have the added bonus of being fully compatible with our existing control systems. Over the coming weeks, we will be phasing in the new hoists, ensuring we have the newest rental inventory in the industry."

Antony Elson, Rigging HOD continues: "The EXE-Rise Chain Hoist adheres to BGV-D8, IGVW SQ P2 code of practice and is CE compliant. The specification includes two independent DC brakes, ultimate top and bottom limits, a five-pocket load wheel and helical gears. These make it one of the most silent and safe hoists available."