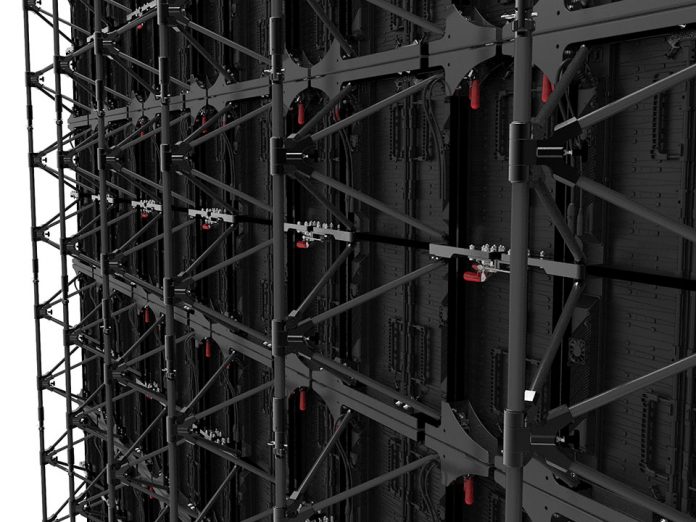 Production Resource Group LLC, (PRG), the world's leading provider of entertainment and event technology solutions, announced today that a new product innovation along with the application of an industry-first technology solution – SPACEFRAME and a 4K Broadcast Camera System – have been integrated into the design, production and operations for the U2 Joshua Tree Tour 2017. Both solutions demonstrate PRG's dedication to innovating products that anticipate the needs of tour managers, designers and artists seeking to push boundaries and deliver a more immersive concert experience onsite or virtually.
"SPACEFRAME and the 4K Broadcast Camera System perfectly demonstrate how PRG excels at seeing an opportunity for innovation that will add operational, economic and creative value from a customer's perspective, allowing artists to more freely tell their story," said Steve Greenberg, PRG's CEO of Global Music/TV/Film.
SPACEFRAME is a revolutionary touring frame design seamlessly integrating LED panels to provide industry-changing operational efficiencies and the opportunity for unlimited creative expression. The carbon fibre touring frame is ultra-lightweight, collapsible and fully wind braced creating an intensive built-in structural strength. This allows for a free-form approach to stage designs enabling artists and designers to think outside the conventional LED box. This latest patent-pending technology from PRG also dramatically reduces pre-tour engineering time, shipping footprint/weight, carbon emissions, load-in and load-out times, as well as labour required on tour and locally.
SPACEFRAME features and advantages:
Carbon fibre fabrication and built-in wind bracing.
o 10 times stronger when compared to conventional fabrication
o 15 percent overall weight reduction
o 35 percent weight reduction including wind bracing
o Integrated wind bracing up to 72 kph
Profile reduction and integrated wind bracing results in up-to 50% savings in shipping cost in some cases and a massive reduction in the tour's carbon footprint
o Specifically, for this U2 tour, truck loads are reduced from seven to three – or one less airplane – when compared to conventional LED frame load
Compact, lightweight design offers up-to 30% reduction of installation/dismantle time and a 25% reduction in overall labour cost
"The quality and resolution of LED products have vastly improved over the last decade, but the frames have basically stayed the same. At PRG Projects, we saw an opportunity to innovate the way in which LED walls were assembled and transported, to rethink the construction of the frame and how it might impact the operational side of the business as well as the design experience," stated Frederic Opsomer, PRG Projects' Managing Director and innovation leader.
Leveraging in-house talent and partnerships already in place, PRG was able to produce the carbon frames from prototype to final product in just 17 weeks, enabling U2 to be the first to take advantage of the innovation. SPACEFRAME has allowed U2's designer to create a 200-foot-wide screen, custom painted in silver and gold to mimic the original artwork of their 1987 album.
4K Broadcast Camera System The U2 tour also marks the introduction of PRG's 4K (UHD) Broadcast Camera System as a first for concert touring. The PRG broadcast system, developed and integrated over three months, is a combination of products that can operate in 4K (UHD) and 3G SMPTE Standards. This design philosophy allows concurrent production to operate at the highest level of broadcast standards. The system delivers 60 frames per second with a UHD resolution of 3840 x 2160 pixels.
The concert touring system interconnects cameras and LED wall processors on fibre because of the enormous amounts of data and length of signal distances. The entire broadcast touring system can be set up within an hour and is designed to be operated by one video engineer, eliminating the need for four-to-five onsite engineering positions.
"PRG has been a part of every U2 tour since 1992 and the band always challenges us with pushing technology to its limits," said Wolfgang Schram, PRG's director of video engineering. "We have to be creative and that is the fun part."