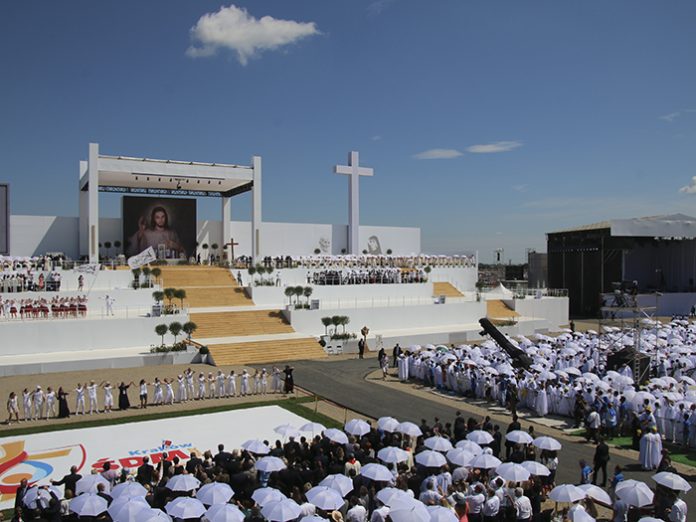 The Former Polish capital of Kraków served as the location for this year's World Youth Day, which saw Pope Francis address millions of pilgrims from around the globe. Poznan-based rental company Gigant Sound Letus were entrusted with supplying a sound system for the event.
Gigant Sound Letus delivered system sets including a total of 66 delay towers (with equipment on two towers and altar doubled to create 70 towers), spread over huge distances, all of which comprised Outline GTO, C-12 and Mantas line arrays powered by Powersoft K Series and X Series amplifiers.
It was one of the biggest ever deployments of the two Italian manufacturers' inventories.
This required a vast international collaboration as the amount of gear needed to do the job extended to 600 line array modules. These speakers were powered by around 200 Powersoft amplifiers (34 X8 Dantes) and 80 K10's, 30 K20's and 56 series T7/T9/T11 DSP + KAESOP. This was all connected to a single TCP/IP network and controlled with the latest release of Powersoft's proprietary Armonía Pro Audio Suite for time alignment and fine tuning of the system.
Also harnessing the vast area of required coverage within budget was Outline.
Jerzy Taborowski of Gigant Sound Letus said: "After the initial calculations had been made in the EASE prediction software, I decided that this was the perfect opportunity to test the newly acquired Outline rig, which later proved to possess far greater dynamics and range than we ever expected."
He explained that in the original plan the Outline delay lines were spaced 150 metres apart – nearly twice the distance of regular sound reinforcement systems.
"The calculations suggested we use about 140 towers, which the organizers did not approve due to the costs involved," he said. "And so it was suggested we use every second tower in a diamond-shape array – which meant each tower would be spaced 300 metres apart! This seemed like pure madness but the challenge was accepted as we knew that the Outline systems would provide incredible results."
The project utilised towers with a constant number of interchangeable transducers, with Outline's Dual Parabolic Wave Guide devices common to all the loudspeakers. "We assumed 3.5 Mantas as an equivalent of a single GTO unit, two Mantas for a GTO C-12, and 1.5 Mantas for a Butterfly unit. Based on this, there should have been approximately 1,000 Outline Mantas boxes deployed on site," Taborowski explained.
Apart from prayers, which were led by the Pope himself, pilgrims were able to enjoy a worship concert featuring Polish and foreign mainstream artists, accompanied by an orchestra and choir conducted by Adam Sztaba (supported as second conductor by priest Robert Tyrała). This required five premier mixing consoles and engineers for FOH alone.
Overall, Jerzy Taborowski believes this to have been 'one of the greatest production events in Europe and one of the greatest in the whole world'. He added: "Probably no other company in Europe has ever provided sound reinforcement solutions in such a vast area and for such a massive crowd of over 2.5 million people."