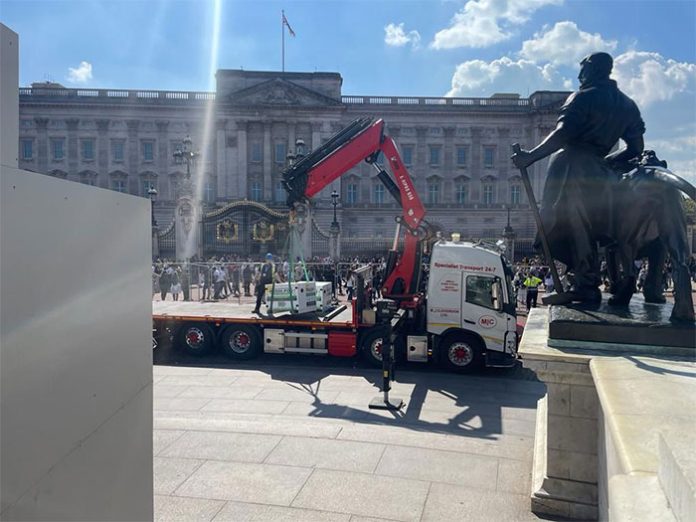 Power Logistics delivered a sustainable power solution to both the ceremonial and live broadcast from Westminster Abbey of the Coronation of Their Majesties King Charles III and Queen Camilla.
Working for Identity, Power Logistics' project management team was involved in the pre-production planning phase for the event. The full power solution included Stage V generators, battery energy storage systems, cable and distribution equipment and DDA compliant cable ramp at several key venues/ positions in central London. Minimising carbon emissions was at the forefront of the solution devised by the Power Logistics' team. This was achieved by utilising Stage V generator sets and battery power for power generation wherever possible.
With 26 battery energy storage systems ranging from 15kWH to 422Kwh deployed at various sites including Green Park, Queen Victoria Memorial, Whitehall, St. James' Park and The Mall. In addition, there were five generators at Westminster Abbey which powered the live broadcast of the Coronation service three were used for the OB units and broadcast compound with the other two in action for the lighting rig installed within the Abbey.
Ian Peniston, Power Logistics Operations Manager, commented: "With so many facets to the Coronation, it was a complex project to deliver. Meticulous planning, not only from our project management team in devising the sustainable power solution, our office-based operations team and engineering team who carefully packaged and prepared the equipment for a seamless installation by the onsite team. They were responsible for the logistics behind its implementation."
"Our planning team also worked closely with our supplier partners, carefully analysing their solutions and selecting the correct equipment for the task at hand. With an emphasis on sustainability, it was imperative that the most efficient solution was deployed. This led to having not only the right tools for the job but also the right people onboard to deliver this historic and prestigious event."
The company has a long history of supporting Royal events also delivering site and show power for the Coronation Concert that was held at Windsor Castle.