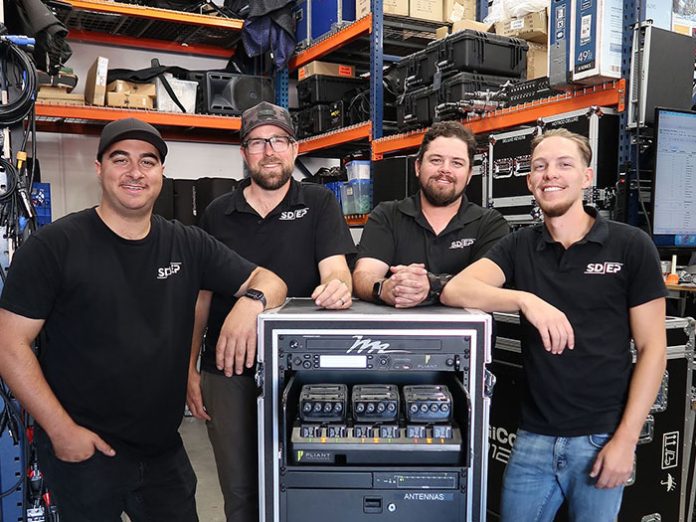 San Diego Event Pros decided to upgrade its communication solutions to a variety of Pliant Technologies products, based on the CrewCom 900MHz wireless intercom system. Since the upgrade, the company has been relying on its new intercom system for various events at the University.
"We were using another intercom system and we kept having glitches," commented Don Brennan, President of San Diego Event Professionals. "I happened to see a write-up in a publication on Pliant, so I reached out to them and requested more information. Once we received the system, we brought it to Point Loma Nazarene and it was absolutely fantastic."
San Diego Event Pros deployed the system for the first time for a University concert located in the Greek Amphitheatre that featured folk duo, Johnnyswim. The intercom configuration consisted of the CCU-44 Control Unit, a CrewCom 8-Port Copper Hub, and two CrewCom Radio Transceivers. The team used seven CrewCom Radio Packs and three of the brand's SmartBoom headsets: two dual-ear and a single-ear.
We didn't experience a single point where there was any sort of dropout," added Brennan."The top of the amphitheatre is street level and then it drops down because it's on a cliff-side. I went for a walk and was able to travel about 300 yards away, on top of the bowl with no clear line of sight at all, and it was still working. I could talk to the guys, no issues at all. The intercom performance in loud environments has also been stellar. I've been able to have a stage manager walk around a very loud stage and can hear him clearly and easily. Prior to our change to Pliant, it was very difficult to communicate with anyone on or near a loud stage."
In addition to Point Loma Nazarene University, San Diego Event Pros also used the Pliant system for a two-night concert event in Allied Gardens."We were using all seven of our Radio Packs," added Brennan. "The set-up was a bit more advanced, as this was a filmed event and we were specifically talking only to video producers in front of house, and it again worked flawlessly.
"Our goal is to make the production happen to the best ability, as smooth as possible with the least amount of stress, and communication is the biggest part of that for us. The flexibility of the CrewWare software along with the ability to setup profiles allows us to create a more streamlined line of communication. I can talk to my camera operators, and they aren't distracted by anyone else's voice. It allows them to stay focused and helps improve the productions we work on. Pliant's CrewCom system has been strong and reliable, and we can't wait to put the system to use for our other upcoming events," Brennan concluded.