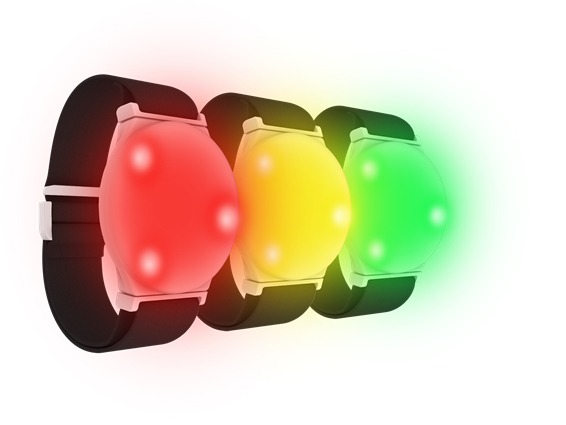 PixMob is reinventing itself to support efforts against the spread of COVID-19. Known for its work in designing, manufacturing and deploying cutting-edge technologies used in major international events such as the Olympic Games, Super Bowl Halftime Shows, and the Spice Girls World Tour, PixMob is pausing its normal activities to focus on three new initiatives: SafeWatch, Triago and the production of protective equipment for front-line personnel.
First, the team created the SafeWatch wristband, which assists in protecting essential services workers by helping reduce the spread of viruses in the workplace. SafeWatch is a smart wristband which, thanks to LED indicator lights, will flash red after a certain period of time, ranging from 15 minutes to an hour, has elapsed since the last hand washing, thus reminding the employee that it's time to go back to the sink. Once at the sink, a yellow light will flash for 20 seconds to ensure an effective hand washing. The bracelet will then turn green to confirm a thorough hand washing. Pilot projects are already deployed in grocery stores, banks, retirement homes, pharmacies, and manufacturing companies. SafeWatch will be offered as of Friday, March 27 for all companies providing an essential service to the population. The first deliveries are scheduled for April 6.
Second, the PixMob team is developing Triago, a solution that uses connected objects to quickly locate patients, caregivers, and equipment in hospitals. A Triago connected object can be assigned to each patient, member of staff and essential piece of equipment, making it possible to have greater control over the entry and exit of containment zones, thus avoiding the risk of contagion, reducing the time required to locate equipment and personnel, and providing a visual signal to patients thanks to a LED indicator lights integrated into the Triago objects. This solution is based on the existing platform behind klik, a technology that has already been proven in more than 300 global corporate events, and is therefore ready to deploy immediately.
Finally, thanks to expertise in the mass production of several types of products, PixMob has converted its supply and assembly lines to develop and produce equipment to protect medical personnel. The first piece of equipment resulting from this initiative is a protective face shield. Nearly 20,000 protective face shields are already available and in the next week, PixMob foresees a production capacity of 5,000 to 10,000 units per day. Other types of protective equipment may also be produced in the coming weeks.
David Parent, CEO of PixMob commented: "With all of these initiatives, we decided to create PixMob Crisis Solutions. Our goal is to slow the spread of the virus, support caregivers and those who continue to provide essential services to citizens. "