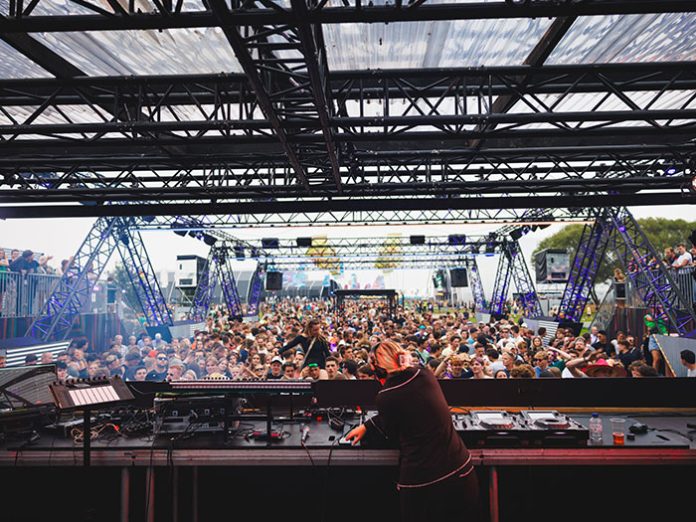 KAGE Audio supplied Pioneer PRO AUDIO system for electronic collective KRANKk's expanded set at Belgian festival Pukkelpop.
For the second year in a row, Pioneer PRO AUDIO teamed up with KAGE Audio and  electronic collective KRANKk to at the Booth Stage, taking the experience to the next level by establishing seamless communication between audio and lighting.
Thomas Geysen of KRANKk commented: "Last year's experience of Pukkelpop was a very successful showcase that left us hungry for more! We were eager to take our immersive performance to the next level and wanted to create a full production in a dark, atmospheric setting which included our live band and lighting/visual show. After almost six months of prep and a residency at KAGE Audio, we organised a captivating immersive performance called GENSIS at Blueprint Festival, Antwerp in April. This led us back to Pukkelpop where we aimed to refine our implementation of Dolby Atmos tracks into the set and present a clubbier version at the festival."
According to Jorn Truyman of KAGE Audio, the sonic experience for the 2000+ audience was a resounding success: "The event's immersive experience received a significant boost this year with the 11.4.3 audio system in comparison to last year's 7.4.1. – so 11 sends on the side and centre of the square to 4 high sends (shower) to 3 sub sends. The increased number of audio sends contributed to a heightened sense of immersion, drawing the audience deeper into the sonic landscape. This year's show took place after dark, so the interplay between audio and lighting became much more important. As always we loved working with Pioneer PRO Audio loudspeakers in combination with ultra-reliable Powersoft amplification. The XY-122 12" point source speakers are perfect for this kind of setup."
The overall Pioneer PRO AUDIO system deployed two GS-Wave towers, 16 XY-122, eight XY-81, four XY-3B, two XY152 and nine XY-218HS horn loaded subs. Stage monitoring comprised two XY-3B for monitor tops and two XY215S for monitor subs. Four of the XY-3B and 4 XY-122 speakers were used as outfill and delay.
KRANKk's set at Pukkelpop featured a blend of music from recent releases, notably their drum and bass EP 'THR33FOLD, as well as the unveiling of as yet unreleased tracks from a forthcoming album due for release next year. Thomas Geysen added: "This year's Pioneer PRO AUDIO sound system was nothing short of spectacular. The sound at the Booth Stage still stood out from all the other stages. The support of our fans and the expertise of the production teams fuels our creativity and motivates us to keep pushing the boundaries of live music. With the support of KAGE and Pioneer PRO AUDIO we look forward to our next immersive musical adventure!"
Comparing this year's experience with the 2022 edition, Partnership Manager at Pukkelpop, Tanja Engelen commented: "I think it was easier to create the immersive experience with lights added as a show element. The additional visual aspect really complemented the excellent sound design and generated a fantastic atmosphere."