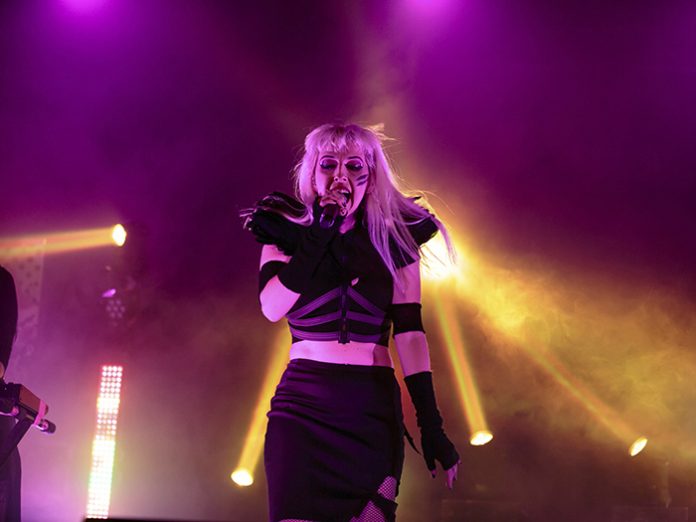 Pin Point Lighting, based in Philadelphia, provided the lighting design and programming for electro-industrial artist Ayria on the Paper Dolls USA Tour supporting her latest eponymous album. Pin Point Lighting supplied a full floor package to the tour plus MA Lighting's dot2 core compact lighting console.
John Duncan, Pin Point Lighting owner, used a moody colour palette in designing the show. The set featured Ayria's pop-up tour banner paper dolls as well as four tall vertical LED video strips displaying graphic imagery. The lighting rig included small LED beam fixtures and some LED PARs. All were triggered from the dot2 core. In addition, the console was hooked up to the keyboardist's laptop for backing tracks.
The dot2 core ease of use meant that the band's drummer was the designated technician for the tour, setting up the whole show in under 30 minutes at each stop. "The entire show ran off time code so the drummer didn't have to touch the console during the day except to turn it on and off," said Duncan. "It was a true plug-and-play situation every night."
The dot2 core is designed for small to medium-sized productions. It includes a full programming section, master playback section, six fader playbacks and 12 individual playback buttons. Two built-in touchscreens and support for one external touchscreen ensure the dot2 core has the flexible hardware required for almost any kind of show.
A.C.T Lighting is the exclusive distributor of MA Lighting's range of compact dot2 consoles in North America.