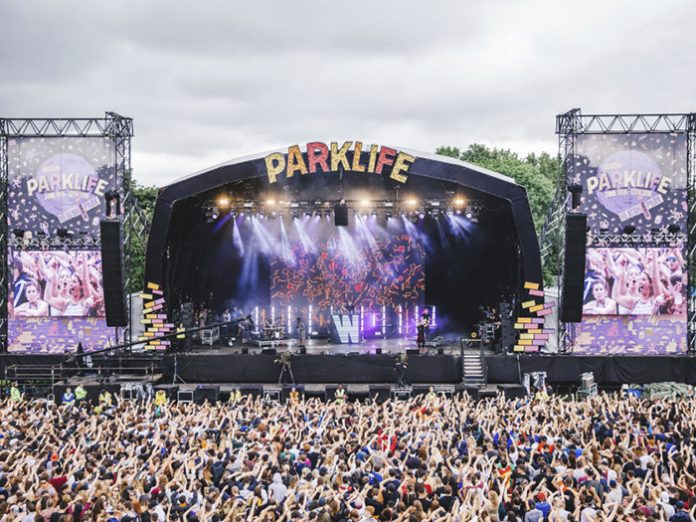 A total of 40 Philips Showline SL NITRO 510C LED strobes from Philips Lighting delivered maximum impact on chart-topping British DJ Wilkinson's performance at Manchester's Parklife festival.
Following on from his live shows at more than 20 venues around Europe, the drum and bass giant has embarked on a string of festival dates. One of the first stops was Parklife, with Wilkinson performing his live show on the Sunday of the Heaton Park takeover.
LD James Baker of Creative Video Design chose the Philips SL NITRO 510C strobes as part of his dynamic yet flexible floor package.
Baker's team rigged the Philips SL NITRO 510C strobes facing outwards on four dollies, custom built by Blackburn-based lighting specialist/services firm HSL that supplied the lighting, along the back wall of the stage. From here the designer applied the units to deliver beat-perfect strobing and a myriad of effects.
"We pixel-mapped the strobes through one of our Green Hippo Hippotizer V4 media servers to create a massive amount of different looks," said Baker. "Their six independent zones of control really make them stand out over other LED strobes in the market."
Baker first came across the Philips SL NITRO 510 range during his time as Video Programmer on Tinie Tempah's 2014 Demonstration tour. He has since used the fixtures on many of his shows ranging from small club tours to large scale festivals.
This year's Parklife was reportedly the biggest yet with 150,000 revellers passing through the gates. Wilkinson's live festival tour continues this summer with performances including the UK's Creamfields on Friday 26 August.