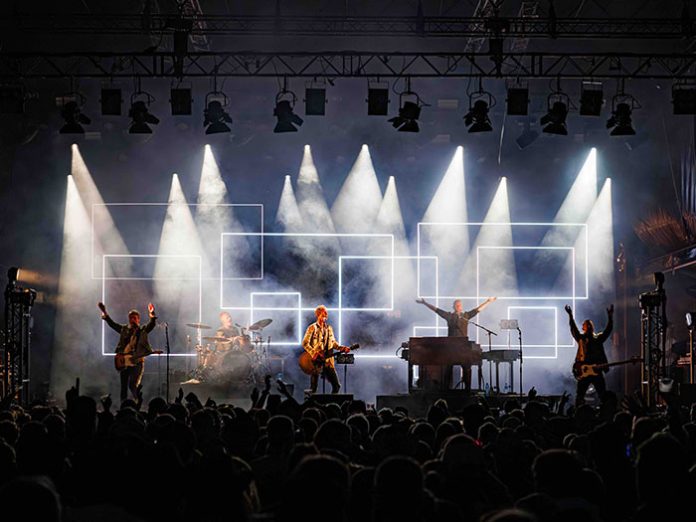 Norwegian band, Postgirobygget embarked on a summer tour, performing at festivals and venues in front of audiences ranging from 2000 to 18,000 people.
Postgirobygget's 28-date Summer 2023 tour has set and lighting design by Petter Nilssen of LiteNordic, MDG's exclusive distributor for Norway. Nilssen chose a single MDG Me2 fog generator as his source of fog and haze for the duration of the tour, complete with MDG's digital theFAN.
"I always chose to tour with an MDG machine," stated Nilssen. "I believe if you take your own lighting rig on tour, it's equally as important to bring your own fog/haze machines. It's crucial to me that the show looks consistent everywhere, and there's often a shortage of fog at both local concerts and festivals. Without a good haze/fog machine, the lighting setup you bring won't work optimally every time."
Nilssen was careful to install power and DMX on either side of the stage, as well as in the centre, so the Me2's Vertical Flight Case can be moved easily as needed, or to counter significant changes in wind directions. "Since the Me2 uses the same neutral fluid as MDG's ATMe machine, it has an extremely long hang time. So usually, I keep theFAN™ at 100% all the time, and the Me2 machine running continuously at its lowest output. This way, I can evenly spread the fog as a 'haze' across the entire stage," explained Nilssen.
Nilssen is very happy with the results he has achieved with the Me2 fog generator and the responses he has received on tour: "The Me2 machine has proved itself an excellent, truly outstanding device and has shown the technicians I work with what an awesome range the Me family is. I'm extremely satisfied with its performance and its fluid and gas consumption. We've completed 17 concerts, and during those shows, I haven't yet used up a 4 x 4 litre box of fluid. Furthermore, I'm still on my second CO2 tank!"
Equipment supplier for the Postgirobygget Summer 2023 tour is Norwegian rental company, Spectre.