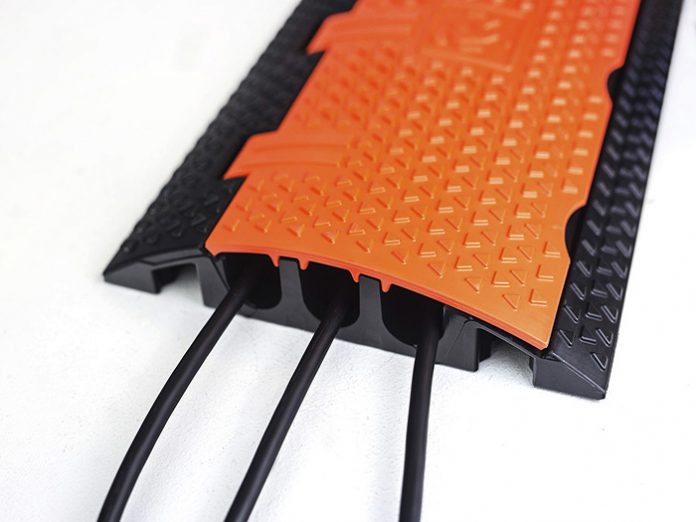 Penn Elcom has launched the Cross 3, a new ground-breaking, high-performance cable protection product. It's tough, durable, fire-retardant, aesthetically pleasing and infinitely useful for any festival, concert, show, event or exhibition environment – indoors or outdoors.
Serious weight capacity ensures that all type of vehicles – including a standard 44 tonne artic – can safely drive over Cross 3. This also includes vans, cars, bikes, forklifts, cherry pickers, scissor lifts, mobile cranes and other mechanical handling devices, tractors, all terrain vehicles, golf buggies and a wide selection of tracked and wheeled site vehicles. That's virtually everything on wheels plus humans and animals, keeping crew, artists, the public and equipment safe.
All elements of the Cross 3 product – top and base – are fire retardant and compliant to DIN EN 13501-1. Cross 3 offers a 110cm (43.3inches) as standard, offering a great value to coverage ratio. The sections are 29cm wide (11.4inches) with an unobtrusive low-profile height of 5.5cm (2.2 inches). Multiple sections of Cross 3 can be neatly and robustly conjoined using an innovative interlocking pin system. The cover hinges open from the base for quick and easy access for laying cables over walkways, roads, pathways and arena floors.
Each of the 3 Cross 3 cable channels has a 33m diameter, so are ideal for accommodating multicores, mains, all types of data, TRS, fibre and copper. These standard sections each weigh an expedient 7.5kgs (16.53lbs), and the hinged lids can be supplied in a range of striking hi-visibility colours or smart black to blend in with the base sections, offering bespoke solutions for different applications.
Quick fit anti-slip / sliding pads are available for the hexagonal base structure to ensure it grips efficiently to multiple surfaces, from grass to trackway to concrete. These are attached via removable pins to assist quick and efficient assembly. Custom logos can be applied to the top (visible) sides of the base for customisation and easy identification.