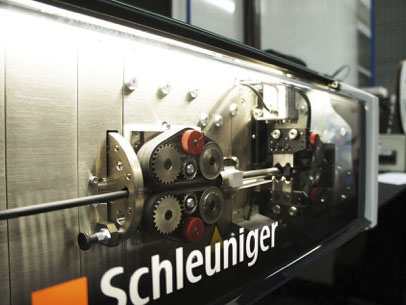 Penn Elcom has expanded the capacity of its specialist cable and 19-inch rack manufacturing facility in Hastings, East Sussex, with a substantial investment in new cable cutting and stripping machinery from market leaders Schleuniger.
This will bring the cable technology and production up to the highest levels.
A bespoke built laser etching machine has also been designed and installed for adding logos, letters, numbers and other customisations to aluminium and steel rack panels, giving Penn the ability to offer further flexibility to its clients.
The move is in response to an increased demand for both standard and bespoke cable and rack manufacturing products and services after the launch of the Penn Elcom Online global web portal in January of this year. A boost in international business is seeing cables, leads and racks being shipped worldwide.
"We want to ensure that with this ramp up we continue delivering all our products and cable solutions to the highest quality standards in the quickest turnaround times for which the Penn brand is renowned," confirmed Penn Elcom's Rob Platt.
These state-of-the-art precision machines will help streamline the workflow, maximise efficiency and underline Penn Elcom's dedication and commitment to delivering premium customer service.
The Schleuniger PF2200 Electric Demand Pre-feeder is a free-standing, electrical pre-feeding machine designed to pull wire and cable from reels and works in conjunction with the MS9480 Cut & Strip machine, one of the most versatile cut and strip platforms available. The two machines combined de-reel the cable drums, cut the cable to lengths and strip according to customer specifications. Large volumes of cable can be cut and stripped quickly and accurately.
The Schleuniger RS2400 is a highly flexible, fully programmable stripping machine that strips cable inner-cores and produces smooth accurate finishes for soldering, crimping or terminating. It also allows between certain sizes to be processed without mechanical adjustments further speeding up the process, and it can strip wires with various insulation types including Kapton, Fiberglass and Teflon.
To help cut the outer jackets of large multicore cables, Penn's shopping spree also included the Schleuniger JS8300 Out-of-Round stripper, which is designed to radially and axially slit cable insulation material. A rotating blade precisely follows the contour of the cable and correctly cuts the cable's jacket. If it's more convenient, the section of the jacket that is to be removed can be slit lengthwise while extracting the cable. After the slits have been made, the insulation can easily be removed by hand.
In addition to rationalizing order and delivery times, the new cable machines will improve consistency for repeat business.
They will be used across all Penn's manufacturing divisions as well as for items that are bespoke manufactured / non-standard, like custom lengths of LED or bay kits for their range of server racks.
The laser etcher on the metalwork side of production will build on this popular service that Penn already offers for its racking ranges, with quick, meticulously reproduced, attractive customisation of individual and bulk orders.