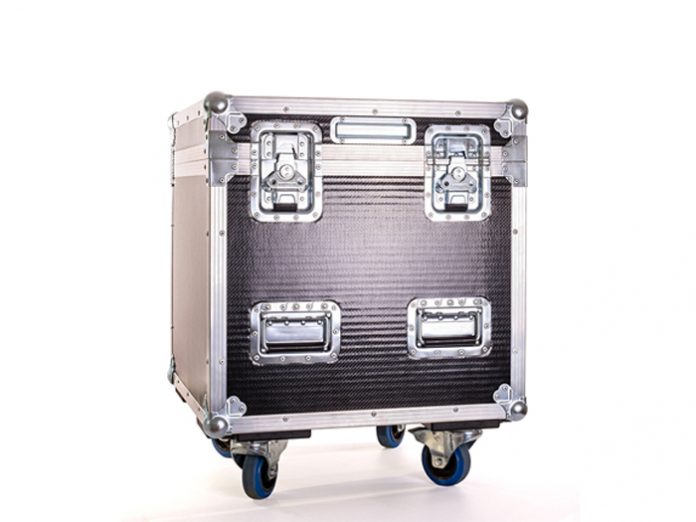 Penn Elcom will highlight four new products at the Prolight+Sound 2019 expo in Frankfurt next week on stand C43 in Hall 4.
Penn Elcom's new UltraFlite case panels are a 100% recyclable product that will become its next-generation flight case standard.
Also new is the Vulcan Shockmount Chassis, bringing affordable military strength stabilisation to rack mounting scenarios; while a new range of Penn Elcom's MOL automatic positioning latches and lid-stay hinges utilizes WeatherSeal technology; and last but not least, also new is a yellow cover available for Penn's popular CROSS 3 cable protector.
UltraFlite Panels
The new 100% recyclable next-generation UltraFlite case panel has been developed following two years of extensive R 'n' D and Penn Elcom's vast experience and will be of interest to anyone who has kit needing to be flightcased.
The new and technically advanced UltraFlite material features a honeycomb structure that makes in incredibly tough, extraordinarily light, durable and resistant to liquids and weather.
It has been created for the needs and demands of contemporary and future flightcase builders, who can dramatically reduce average case weight by an incredible 30 – 40 percent by including UltraFlite in a case design.
Transporting heavy wooden boards will become a thing of the past as UltraFlite panels are  80% lighter than the plywood equivalent.
This will also save some trees. Any contribution to reducing deforestation and climate change – however small it might appear – is worth instigating and switching to UltraFlite will mean less wood is needed globally across the flightcase industry. Taken collectively this is a massive potential impact.
The hardened skin is a highly stretched polypropylene fibre composite sandwiched around a hexagonal core – so a flightcase built with UltraFlite will resist impact and liquids including chemicals and is perfect for numerous weather scenarios like rain, humidity and moisture.
As well as making it sustainable, the panel's skin and honeycomb structure need fewer resources to produce, and their longevity means that less panels will be used and needed over the lifespan of the equipment being protected.
Enhanced lightness also equals less transportation costs with less fuel consumed to get the kit from show to show.
Vulcan Shockmount Chassis
Another new technically enhanced product from Penn Elcom gives affordable military-grade protection against impact, shock and vibration – ideal for a diversity of equipment.
The patented design utilises hollow triangular sections of high tensile tempered aluminium alloy, bringing an amazing strength-to-weight ratio to any size of chassis. A 6U rack, for example, weighs just 3kg, and 2U to 18U kit sizes are available with no loss of strength.
Delicate and sensitive devices and kit can be added with confidence to rack enclosures without having to upgrade to heavier and more expensive steel chassis.
Tested to the truly industrial parameters, the Vulcan chassis will keep its contents safe from drops, shaking and impact during transportation or storage.
MOL WeatherSeal automatic positioning latches, and lid-stay hinges
This has been developed by Penn Elcom to help create seamless flightcase latches and hinges that help close lids even tighter, eliminating any gaps, and with the assistance of a tiny rubber membrane making the case interior dust and water resistant, keeping the contents safer from ingress when closed.
Manufactured using Penn's latest CNC technology, flightcases can be safer and more secure than ever before using the MOL latches and lid stays.
The latch is mounted in a generous recessed dish for use on large-sized cases. Tough PennBrite zinc plating offers excellent protection against corrosion and gives that cool distinctive PennBrite finish – used on most of Penn Elcom's flightcase components – which exudes quality and robustness.
Yellow CROSS 3 cover
Penn Elcom has added a new striking bright 'hazard' yellow cover selection for its CROSS 3 cable protector.
CROSS 3 is a high-performance cable protection product launched by Penn Elcom, which is tough, durable, fire-retardant, aesthetically pleasing and infinitely useful for any festival, concert, show, event or exhibition environment – indoors or outdoors.
This three-channel 'crossover' product is manufactured from Thermoplastic Polyurethane (TPU), chosen for its strength, high resistance to abrasion, flexibility and recyclability.
Serious weight capacity ensures that all type of vehicles – including a standard 44 tonne artic – can safely drive over CROSS 3 as well as virtually everything on wheels.