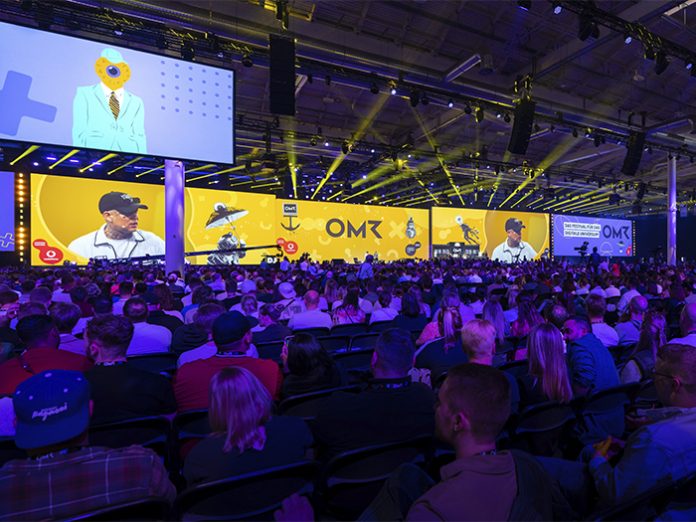 The OMR Festival in Hamburg is growing continuously. The format, which was launched in front of 200 guests in 2011 – at that time still under the name Online Marketing Rockstars Conference – now fills the entire Messe Hamburg, as well as numerous other locations in the Hanseatic city with a wealth of side events. This makes the OMR Festival the largest gathering of executives from the digital economy, media and marketing worlds in Europe.
This year's event took place on 9 and 10 May, with more than 70,000 participants and over 1,000 exhibitors. On an area of 100,000 square metres, OMR offered the digital and marketing community a comprehensive programme of conferences, masterclasses, side events and an expo, with more than 800 speakers appearing on the six OMR stages.
PRG Germany has been supporting OMR for many years, and in 2023 the company supervised several sub-projects at the festival. On the one hand, entire halls, individual stages and the outdoor area were supplied with 360° event technology – rigging, kinetics, lighting, audio and video – directly on behalf of the organiser. On the other hand, in addition to the company's own exhibition stand, PRG was responsible for two other exhibition stands on behalf of its customer, where lighting design and operation were also in the hands of PRG.
Of approximately 3,200 moving lights supplied by PRG, over 1,000 came from GLP. Across all sub-projects, these comprised 250 impression X4, 140 impression X4 L, 60 impression X5, 140 impression X5 Compact, 60 HIGHLANDER Wash, 50 GT-1 FL, 60 JDC1, 50 impression X4 Bar 10 and 220 FUSION X-PAR 12 Z and 60 FUSION Stick FS16 Z.
"OMR is a very demanding project," confirmed Matthias Allhoff, director asset strategy/head of lighting technology at PRG Germany. "The sheer size of the event and the fact that classic conference elements in XXL format are combined with an equally large trade fair – dozens of side events as well as concerts and parties – sets the bar very high in terms of technical requirements. We install a lot of equipment here with a lot of staff in a very short time. At the same time, we look after both the organiser and the trade fair appearances of individual customers. This means that every OMR is a kind of 'masterpiece' for us, which we always look forward to."
Almost 200 GLP fixtures were installed at the largest booth at this year's OMR alone. This made special demands on lighting technology and design. A classic exhibition stand during the day, it turned into a buzzing nightclub in the evening. The lighting had to be planned to be correspondingly versatile.
The new impression X5 Compact played a key role, as Allhoff explains: "In view of the time frame and possible roof loading, it was not possible to install two separate lighting systems. So we planned a lighting concept that would be able to optimally cover both requirements. With the impression X5 Compact we had, on the one hand, very high-quality white light for the stand lighting during the day, and on the other hand a fast moving light with good effects for the evening programme."
Additional impression X5 Compact, JDC1 hybrid strobes and GT-1 FL beam lights rounded off the powerful effect array on various movable truss elements.
"This application is an example of why PRG chose the X5 Series," says Oliver Schwendke, GLP key account director.
"This is where the potential of the impression X5 Compacts in particular is fully exploited: while these lights almost serve as a Fresnel lens that moves the head during the day, in the evening they seamlessly transform into small effect machines."