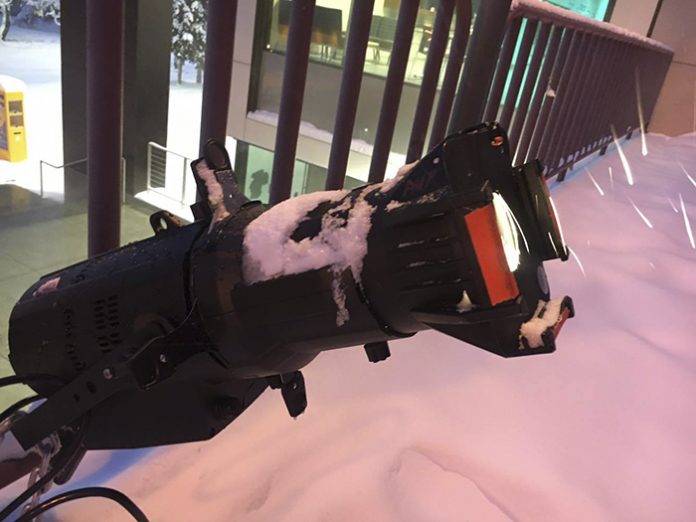 Jonathan Huff, CEO of Alaska Universal Productions in Fairbanks, has had to contend with more than his share of frigid temperatures and blinding snowstorms. However, even by Fairbanks standards, conditions were extreme when he installed three Ovation E-260WW IP fixtures from Chauvet Professional outdoors for the University of Alaska Fairbanks Centennial Celebration.
The outdoor LED fixtures were positioned at sites around campus as temperatures fell to more than 10 degrees below zero, with gusty winds and snow. Soon after they completed the installation, a second more severe storm hit, dumping 16 inches of snow on Fairbanks.
The Ovation E-260WW IP was unperturbed by the storm, projecting the message 'Welcome to Nanook Nation,' Nanook being the school's polar bear mascot. A couple of weeks later, when temperatures outside fell to -19⁰F, the ellipsoidal was still running smoothly.
Its weather-resistance is only one of the reasons Huff added the Ovation E-260WW to his inventory at Alaska Universal Productions. "They are brighter than your standard incandescent ellipsoidal, and they have an excellent throw distance," he said. "We used a 36⁰ lens and had no problem projecting the gobo from the sixth floor."
Given the frigid temperatures in Fairbanks, Huff also values the low heat generation of the Ovation E-260WW IP. He commented: "It's easier to work with the LED fixture when you take it off the stand and you don't have to worry about a hot lens breaking when it comes into contact with cold snow. Plastics and power cables tend to get brittle in frigid temperatures."
By drawing on his experience and reliable fixtures, Huff has been able to deliver consistently high quality lighting to the University of Alaska Fairbanks for its centennial celebration.