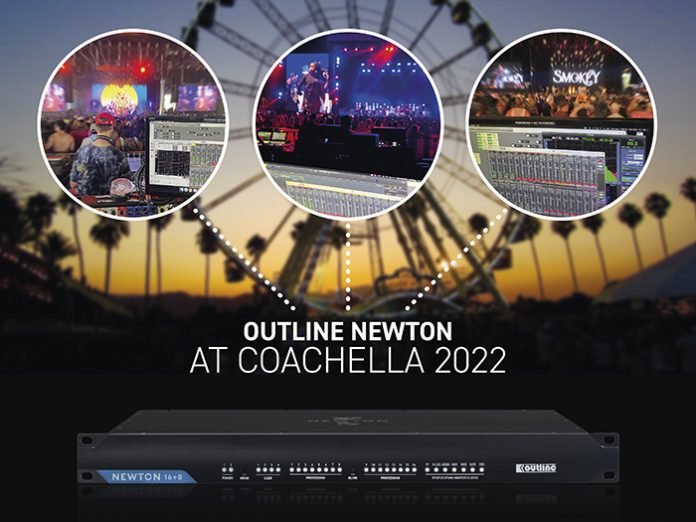 Outline's unique FPGA processor assumes a key operational role at Coachella and Stagecoach Festivals. Both returning after a two-year break. As they have been for every Coachella since 2000, Camarillo-based Rat Sound Systems were the principal audio reinforcement provider for the 2022 event, providing complete live performance systems across the seven largest performance areas: the Coachella Stage, Outdoor Theatre, Gobi Tent, Sahara Tent, Mojave Tent, Yuma Tent, and the Sonora Tent, respectively handling around 180 acts in each of the two three-day weekends.
At the Stagecoach Festival, Rat Sound delivered multiple stages worth of audio including the Mane, Spotlight, Honkey Tonk, and Palamino Stages. The Mane stage alone included over 30 delay clusters!
Rat Sound's Outline Newton processors made their debut at the dual event in 2019, serving as multi-format digital hubs through which the FOH mixes were directed to the multiple main and delay loudspeaker systems across the various stages.
In 2022 its Newton stock was deployed in the same way but with the additional operational advantages delivered by the latest software and firmware releases. These include enhancements to the functionality of the WFIR filters (by the all-new EQ-CSA algorithm), extended compatibility for the latest Apple Mac computers and, of particular relevance to Coachella, the addition of GPIO port control.
Jon Monson, Head of Touring for Rat Sound commented prior to the event: "Now the Outline team has implemented a GPIO function to the software and with this we have been able to implement a complete emergency override for every festival stage from a remote, central location. Over the last few years it has become increasingly important to offer these kinds of safety enhancements to our festival customers, and the Newton has allowed us to make this happen."
Commenting on the 2022 events, Jon added: "The Newtons have become integral to our Coachella (and other festival) systems and workflow. We make use of the Newton's many formats, including Dante for PA and Delay feeds, AES for console I/O, Analog for Emergency Broadcast inputs and Analog PA backup feeds and MADI for additional local I/O.
"At Coachella and Stagecoach we have all the Newtons connected to a central location via fibre. Our setup allows us to mute any stage's Newton via the GPIO remotely, and still allows for an emergency announcement to be made. It works so well, we were able to test the system each day when noise curfews were lifted and be done and ready for the morning's soundchecks within three minutes. It is also easy and reliable enough that we are able to hand off complete control to the festival security team, who did their own testing each day."
He concluded: "The software remains one of our favorites to use. We have some basic training videos for new Rat System Engineers – we have found after an hour of videos on basic operations, routing, how our Emergency System connects and the Smaart Integration, that most can be up and running with very few questions or need for assistance."