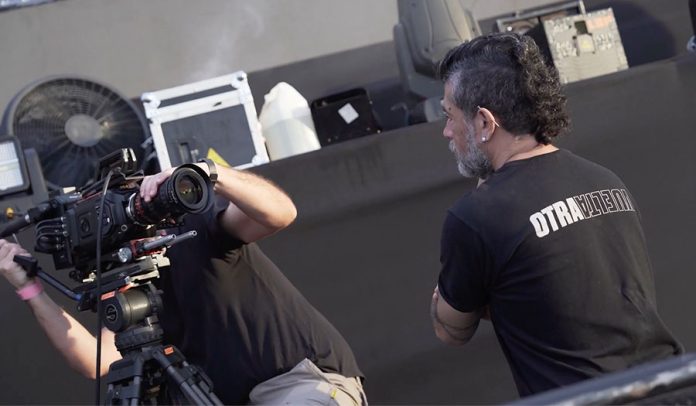 Blackmagic Design has announced that Argentinian broadcast and live streaming company Otra Vuelta Broadcasting relied on Blackmagic URSA Broadcast G2 cameras and an ATEM Constellation 8K live production switcher to produce a 360 degree experience at DJ Bizarrap's three sold-out concerts at the historic Hipódromo Argentino de Palermo in Buenos Aires.
The three-day production and live stream featured a unique stage setup with screens encompassing it, offering the audience and viewers at home a 360 degree immersive experience.
23 cameras were used to help achieve this, with Otra Vuelta Broadcasting relying on 16 Blackmagic Design cameras, including six URSA Broadcast G2s and five Blackmagic Pocket Cinema Camera 6K Pros all shooting in Blackmagic RAW.
Partner at Otra Vuelta Broadcasting, Rodolfo Cesatti explained: "For Bizarrap's three concerts, we did camera work for two of them and broadcast the third one to DirecTV Go".
The URSA Broadcast G2s were mounted on camera arms across the venue for a multiangle experience, while the Pocket Cinema Camera 6K Pros were handheld for up close moments with Bizarrap while he was playing, giving attendees and viewers the feeling they were on stage with the artist. Otra Vuelta Broadcasting also had crew members walking among the audience with Pocket Cinema Camera 6K Pros.
"We were able to offer attendees, as well as viewers at home, a full sensory experience due to the quality of the footage, in addition to the cameras' affordability as we were able to implement a large number of units. The ability to shoot in 4K with both the URSA Broadcast G2s and the Pocket Cinema Camera 6K Pros was huge for us, as it also gave uniformity to the show," Cesatti added.
Otra Vuelta Broadcasting relied on two ATEM Camera Control Panels to modify and correct the cameras' colour according to how the light on stage changed, with an ATEM Constellation 8K used for principal mixing. Given the venue's large size, Blackmagic Camera Fiber Converters and Blackmagic Studio Fiber Converters provided connectivity via a single fiber cable between the URSA Broadcast G2s and ATEM Constellation 8K over 300 meters.
"The concert had to be recorded with a 4K master, and at the same time, it was sent to an OB van for its live broadcast on the DirecTV Go platform," Cesatti continued. "The ATEM Constellation 8K's ability to make sub mixes allowed us to send camera feeds to the ATEM Camera Control Panels for live colour, along with another mix that went to an ATEM 2 M/E Production Studio 4K switcher, from which signals for CCTV were derived, some directly and others with post processing from the Bizarrap VJ area. In the same way, the ATEM 8K's 24 auxiliaries were also used for direct camera recording to HyperDecks in the rack. We fully exploited the ATEM Constellation 8K's 4K mixing possibilities as well as the submixes and auxiliary outputs."
"Additionally, using the Constellation and the URSA's intercom capability made the communication scheme between the director and the camera operators, cranes, cablecam and the rest of the team easier," he added.
Working with Blackmagic Design on this major production was testament to the high quality and flexibility of the products. The gear was instrumental in delivering such a dynamic show successfully, and we can't wait to our next venture," concluded Cesatti.