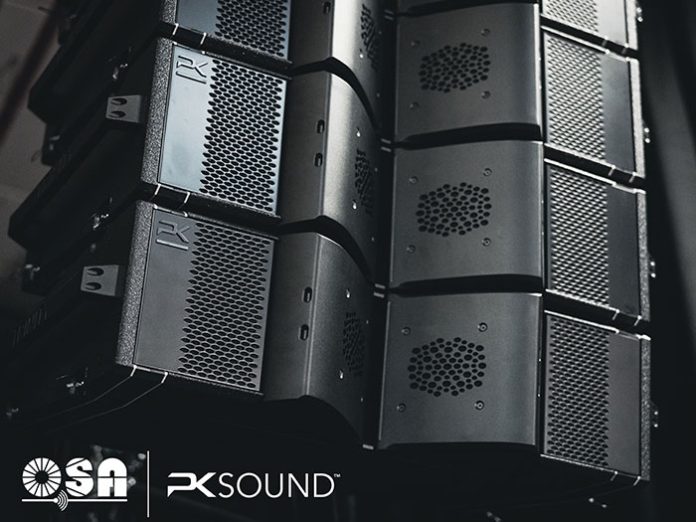 OSA International has made an investment in robotic line source technology from PK Sound, spearheading a long-term partnership between the two companies.
"Meeting the broad range of our clients' needs drives everything we do, and we pride ourselves on being early adopters of innovative technologies that help us do it at the highest level," commented Mario Educate, President of OSA International. "From blockbuster tours and events to high-profile installations, we see unlimited potential in how PK Sound's multi-axis robotics will exceed expectations in the growing range of applications we cover. Between the cutting-edge technology, amazing acoustic performance, and unmatched support, we're very excited about this partnership."
The company's initial investment comprises 128 of PK Sound's medium-format T10 line source modules. This included over 40 symmetric and asymmetric horizontal settings for each individual module, enabling the creation of tapered arrays tailored to any venue or space, along with an unprecedented 0.1° of resolution in an array's vertical dispersion.
"The degree of sound field control that PK systems achieve through robotic optimization is unmatched in our industry, and that's on top of the operational advantages that support OSA's growing body of work – no amp racks, fewer cables to manage, and significantly faster, easier, and safer deployments in any application," commented Bobby Allen, Executive VP of Entertainment with OSA. "Ultimately, the ability to deliver audio experiences with maximum intelligibility and impact regardless of a venue's acoustic limitations will keep us at the forefront of our industry and shaping where it goes next."
Rounding out OSA's inventory are 12 of PK's soon-to-launch T8 sub-compact robotic line source modules, 32 T218 intelligent subwoofers, and four SC1 Signal Cells, which manage signal and network data distribution for all PK systems in a modular, globally standardised touring rack.