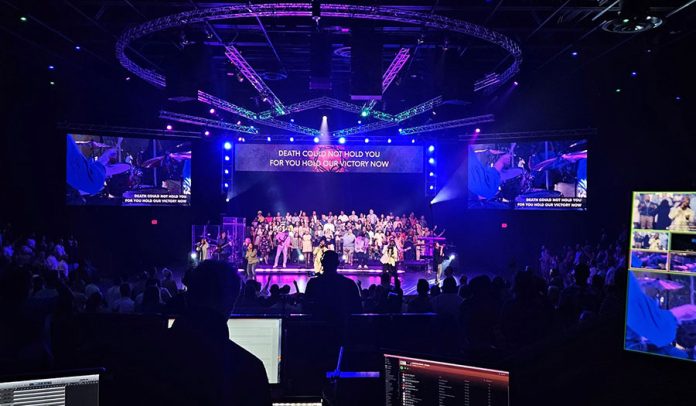 OSA International carries a vast inventory of show production solutions. One of the most recent acquisitions from its Las Vegas HQ has been the first tranche of 100 FUSION X-PAR 12Z fixtures.
According to OSA head of lighting design Duke Carlisle, aside from replacing old generic PARs in their inventory with modern LEDs it has already found favour as an installation item in a modern church and has been deployed on a number of blue-chip corporate events.
"We didn't want to do the whole retro-fit single colour and we had tried a few other options that didn't have the zoom," Carlisle explained. "Then we looked at a number of other PARs and none compared colour-wise, especially the saturation with the lime. It also had a really good zoom."
OSA was originally alerted to the fixture by GLP Sales Manager, Dave Barten. "He asked us to take a look at it. At the time we demoed it we weren't particularly serious, but all that changed when we saw it operating within their booth at LDI," continued Carlisle. "So post-LDI it was like, 'OK, now we're serious.'" Firing it up against other items in OSA's inventory vindicated the decision.
This was especially so when after seeing the fixture in action, the local Hope Church ordered 20 of the fixtures and then quickly followed by ordering a similar amount for its satellite campus, Hope Church Henderson.
Duke Carlisle discussed the versatility of the fixture: "They are often used for backlight, but they also have a pretty high CRI, so we've used them as a front wash for smaller rooms or stages, or else tucked them up into a truss for a TV booth – they are fairly compact for what they are. Other than the really wide zoom, another factor is that they are sealed, so you can easily clean the front lens."
The FUSION X-PAR 12Z is already on corporate shows, with a large quantity forming part of a two-truck production load-in for a Subaru event, detailed to light the stage, backstage and car prep areas. Large quantities have also been used on events for T-Mobile, Siemens Electric and NBA Draft Combine in Chicago. The largest quantity, some 200 heads, had been earmarked for an event for Polaris ATV, used individually to light the vehicles.
One lighting designer who has been making good use of the X-PAR Z12 on both the Subaru and T-Mobile events has been Wayne Lambert. "He really likes them because of their colour correcting ability – to be able to plus-green and minus-green and dial them in for a broadcast set up," commented Carlisle.
With an additional revenue stream coming from dry hire, and Hope Church already talking of ordering more X-PARs, the investment is likely to be ongoing. "We are now talking about buying more for our OSA inventory—so it's turned out to be a really nice arrangement all round," concluded Duke Carlisle.