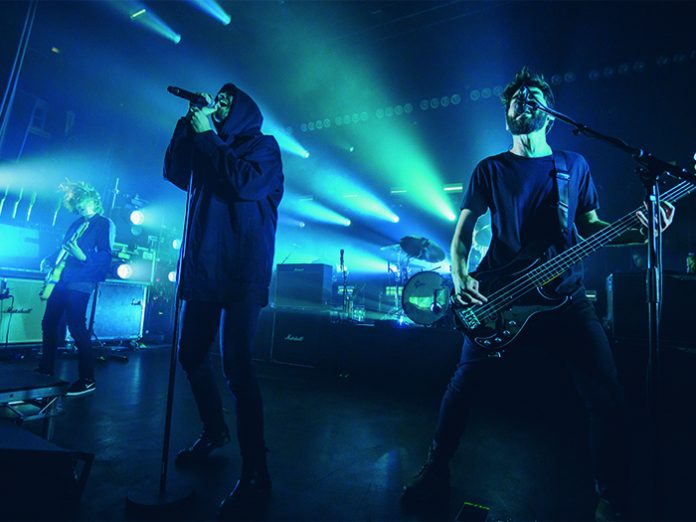 Lighting Designer Louis Oliver – one half of Okulus along with fellow designer James Scott – has been working with You Me At Six (YMAS) for 10 years, but the band's most recent tour, Night People, marked the first the production the LD wouldn't be present for. TPi talks to the creative duo about the importance of relationships with artists, the evolution of their lighting designs and retiring from touring to take on more work…
In 2007, a meeting at Reading Festival with their then tour manger would cement a working relationship – and subsequent friendship – between Louis Oliver and English rockers YMAS that to this day, clearly makes the LD proud. The summer festival season next summer will mark 10 years with the band.  He told TPi: "The friendship between myself and the band has become more like family over the years. James and I are both very close to some of the artists we've toured with. With YMAS, we know each other so well that when we need to talk about work we can be very honest and no one's feelings get hurt. It's an open platform for discussion and that's how we get the best results."
Five albums and five show designs later, the two entities have established an enviable understanding of each other's work ethic. Oliver continued: "Back in 2007 they were teenagers and didn't really know what was possible with their productions, but at this point they've become a lot more involved, especially Josh [Franceschi, frontman]. They want the industry to take them more seriously as a band as opposed to the teenage image they started out with."
Discussions with the band led to three key words: bold, moody and smoky. "They're fans of the big, traditional rock looks and flashy lights, which has been really good both for this campaign and as part of exploring what we want to do together in the future," he added.
Since the LDs joined forces to form their design powerhouse, their approach to lighting design has altered somewhat. "Now that we design as a pair, everything has become a lot more refined. We tend to question everything that we do."
Scott agreed: "Even though this particular design is so simple, we still went through a few versions. Now that we always have each other to bounce ideas off, we never instantly agree; we question why something is being done and if it's making the design better. We've grown up I think, and grown into the process of developing stronger designs. For example, with the Sharpy Washes we used on YMAS, we could have hung them all in the same orientation, but we wanted the ones we placed on the floor facing down with the lens up to get those aerial shots. We didn't want the hung fixtures outrigged because the pan / tilt would have been in the wrong position for the Atomics to fit in between. I don't think either of us would have realised any of this until the fifth gig in a few years ago, but we're now able to think about everything technically from the very start rather than just in a visual design sense."
The design comes with three key plots; 10 upstage lighting towers that hold 20 Martin by Harman Atomic 3000's, 30 Claypaky Sharpy Wash 330's and 12 Martin by Harman MAC Auras; a flown lighting rig comprising 24 Sharpy Wash 330's, 28 4-lite generic molefays and 10 Atomic 3000's.
Oliver commented: "I love how bright the Aura is – it's brilliant as a wash or as punchy light. Because the band were going for an old school rock 'n' roll feel, we wanted to create tungsten looks, and I think we managed it." .
The towers were custom built at lighting supplier Neg Earth. Scott explained the importance of the towers being sprayed black: "We hate seeing rigging when there's no need. If it's not part of the design, then it should always be black. Everyone has their own preference but I personally hate seeing distracting cables."
Visual effects comprised two Reel EFX DF-50 diffusion hazers and two Martin by Harman Jem ZR44 hi-mass smoke machines.
Oliver continued: "We designed the rig with the tour venues in mind [only three could accommodate the flown lights] – so the rig would roll on and off stage easily and stay fitted during transit. This was important because our operator, Nikita Jakovlev was solo lighting crew, so we had to design the tour with that in mind."
Handing a design over once it's completed is one thing, but handing over a decade of touring history must have been hard? Oliver continued: "We found Nikita through another one of our clients, Jack Garratt. He was teching at a festival and seemed like a really nice guy so we're very happy to be working with him."
Jakovlev stated: "It's been a pleasure taking over from Louis and joining the YMAS tour. There's a pressure of delivering quality in the show which their core fans in particular will expect after a decade of Louis operating their live shows, but that said, the YMAS family made it a really smooth transition. It's been a great to be a part of."
Oliver added: "This is the first time the band has toured without me ever since they've needed an LD because James and I both stopped touring in June in order for Okulus to take on more design work. We're sort of non-touring touring crew now. It's been a big change, admittedly, but it's also been fantastic not getting tied up in daily touring life – four out of our five working days are creative now."
For control, team Okulus opted for their trusty MA Lighting grandMA2 Light desk, as Scott enthused: "We've been long time fans of the grandMA and we've never been let down by it yet. That desk is an extension of our brains. If you don't have to stop and think, it helps you flow better as a designer, and that goes for everything we use. It's the greatest feeling walking up to a problem at FOH when there's five or six techs stood around and they cant figure out what's wrong, only for the show designer to rock up and know how to fix it. We know our kit really well."
Oliver agreed: "People are always very shocked that we draw our designs too… but everything starts from a drawing. We do every bit of each design ourselves. That starts with a sketch and flows right through to knowing how to work with everything we specify."
As of 2017, fans of the band can expect their most sophisticated show design to date, as Oliver concluded: "We want to support them in everything we do. This is the strongest 10 tracks of music they've ever produced and we want their live shows to be able to reflect that. We want to entice people to come and see them live. I know people were going to see our Chvrches show because of the production, and we want to get to that point with this band. There's going to be a lot of exciting changes coming next year…"
On that note, we'll leave the non-touring touring duo get get their sketch pads out and no doubt fill you in when the next technical creation is stage ready.
TPi
Photos: Giles Smith