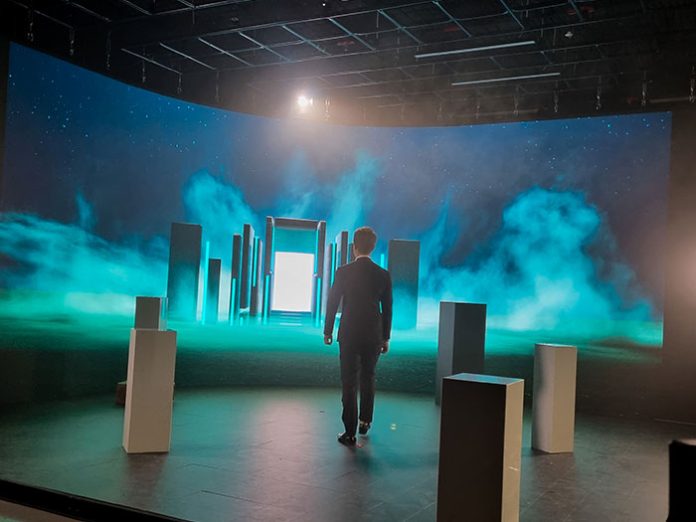 Oceanus Media Global (OMG) recently worked with Mediacorp to create the opening segment and after credit scene for the award ceremony using their next-generation Futurealistic Studio, with an LED volume powered by Brompton Technology LED processing.
The LED setup at OMG's Futurealistic Studio included a 4K curved LED screen comprising broadcast standard P2.6 LED panels from ShowHo, measuring 11 metres long by six metres deep and four metres high. The screen is powered by 4K Tessera SX40 LED processors, offering a wealth of industry-leading features, including HDR and Dynamic Calibration, as well as Extended Bit Depth, PureTone, ChromaTune, Dark Magic, Genlock and others.
"When we established OMG, we aimed to combine the creative, media, and tech domains in a single space to enable convergence," commented Nick GC Tan, CEO of OMG. "Our team comprises multiple experts such as producers, immersive multimedia tech specialists, studio personnel, audiovisual teams, light specialists, and more. Many people think that the concept of immersive media is just simply an LED volume, but it's so much more than that. It also covers live streaming, e-sports, virtual production, immersive media, the metaverse, and virtual avatars. Our Futurealistic Studio is a one-stop shop for all those disciplines, creating unforgettable XR, MR, and AR experiences."
Tan elaborated: "By combining the AR tiger with live performers, we created a whole new dimension to shows, demonstrating that virtual characters and humans can coexist on stage. We were thrilled to provide a fresh virtual spin on the Lunar New Year festivities and seamlessly integrate live broadcast with augmented reality."
According to Tan, the latest project with Mediacorp involved a three-day shoot for the Star Awards 2023 opening and after-credits video: "It was a lot of fun. The team at Mediacorp had some ideas for the over-arching concept, and then our producer and director came up with the visual concept," he explains. "We discussed how it would be filmed and how the LED stage would be set up. Mediacorp loved the idea, and we proceeded to shooting, which was stress-free and seamless thanks to the high-quality equipment in our studio and the expertise of our team."
"Brompton was the clear choice for us when we opened the studio last year, and it remains our top choice today," Tan enthused. "The lifelike and ultra-realistic colour reproduction that Brompton provides is unmatched and exactly what visual effects supervisors are looking for, making Tessera LED processors a gold industry standard for virtual production studios. The straightforward usability of the Tessera software is also a major factor for us, as it streamlines our workflow and enhances our productivity. Ultimately, it's the combination of colour quality innovation and user-friendliness that makes Brompton our go-to brand for LED processing. Thanks to the SX40, we can deliver stunning and professional-looking productions, which gives both us and our clients peace of mind and confidence in the final output."
After the Star Awards 2023, Tan reveals that Mediacorp is now exploring other forms of projects to be done in a virtual production setting.