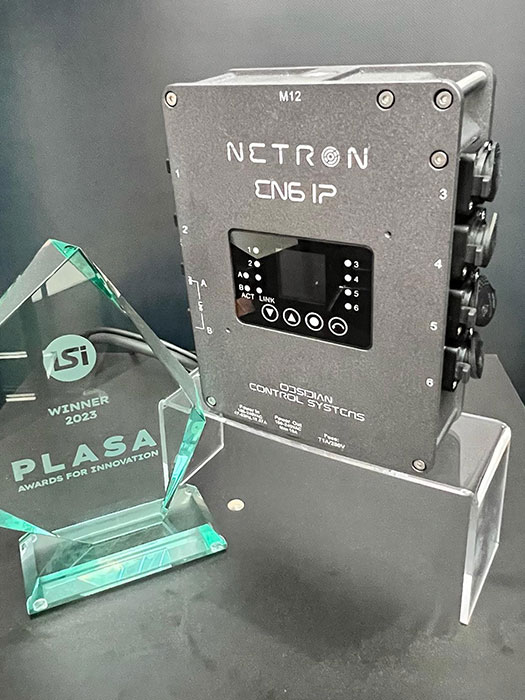 The NETRON EN6 IP, one of three devices in Obsidian's new IP65 range of signal distribution, won a PLASA Award for Innovation September 4 at the 2023 exhibition.
The PLASA Award judges recognised the EN6 IP as a "device that brings lighting control distribution and format conversion to the outdoors at an accessible price point."
The 6-port EN6 IP EtherDMX node, along with a 6-port RDM Splitter (RDM6 IP) and an 8-port managed POE switch (NS8 IP).
The NETRON IP65 range blends the proven chassis and connector technology of Elation Professional's market-leading IP65 Proteus range of lighting fixtures with the NETRON data platform. Utilising a custom-designed die-cast body, impact-resistant paint, IP ports and touch controls, the NETRON IP65 range provides data distribution for any location that requires dust and moisture protection.
"I'm incredibly proud of our team's tireless work and relentless pursuit of innovation as we continue to push the boundaries in entertainment controls," stated Matthias Hinrichs, Product Manager at Obsidian Control Systems and Elation Professional. "The NETRON EN6 IP, along with the entire IP65 range, represents a significant step forward in addressing the needs of the entertainment industry. A rugged IP-rated lighting data node that aligns with our leading Proteus range has been truly missing from the market and now lighting professionals can operate with greater confidence in any environment."
Offering up to 6six universes with full support for the industry-standard streaming sACN and Art-Net protocols. A removable metal cover protects the display from impact, and the boxes are easily stackable via a simple and elegant internal magnetic alignment. M10 or M12 clamp positions round out the chassis, and daisy chaining of power and gigabit Ethernet ensures fast and efficient deployment in the field. For added convenience, the EN 6IP can be powered by POE Ethernet.