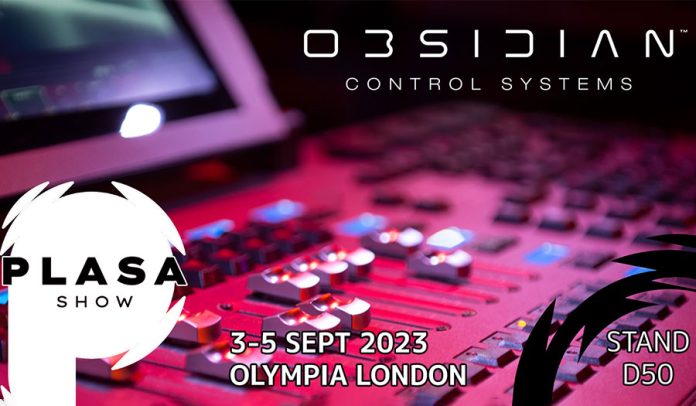 Obsidian Control Systems will exhbit new NETRON solutions on stand D50 at the PLASA Show at Olympia in West London on 3 to 5 September 2023.
Sampling a host of new innovations including the modular NX1 lighting console and latest ONYX software, as well as the world's first IP65 data distribution range and other NETRON data distribution devices.
The software expansion of the ONYX control platform will be available to view and test drive. Featuring NDI Video Input, Realtime audio analysis and Beat Sync.
Visitors will have a chance to demo the NX1, Obsidian's scalable, full-featured lighting console. A compact, motorised fader wing, the NXP, as well as a small USB-powered control surface for ONYX, the NXK will also be on display.
NETRON introduces the IP65 product range for entertainment data distribution. Utilising a custom-designed sealed chassis, IP ports and touch controls, IP65 solutions are provided as a six-port RDM Splitter (RDM6 IP), 6-port EtherDMX Node (EN6 IP) and an 8-port managed POE switch (NS8 IP).
Obsidian is also launching a line of NETRON products in smart form factors optimised for system integrators and fixed installations. Two new compact devices with interchangeable connection plates. Available as RDM6D (6-port RDM Splitter) and EN6D (6-port EtherDMX Node), these rugged chassis can be DIN-Rail or wall mounted and provide Terminal, IDC (Insulation Displacement Connector) and RJ45 DMX options all included.
Other new devices from NETRON include the EN12i, a hardwired rackmount node;  EP1, the new single-gang size EtherDMX node in the NETRON line; NS8, NETRON's half-rack-sized managed switch solution; and RP2, an intelligent 2-way DMX power relay that serves as a protective device for lighting fixtures.