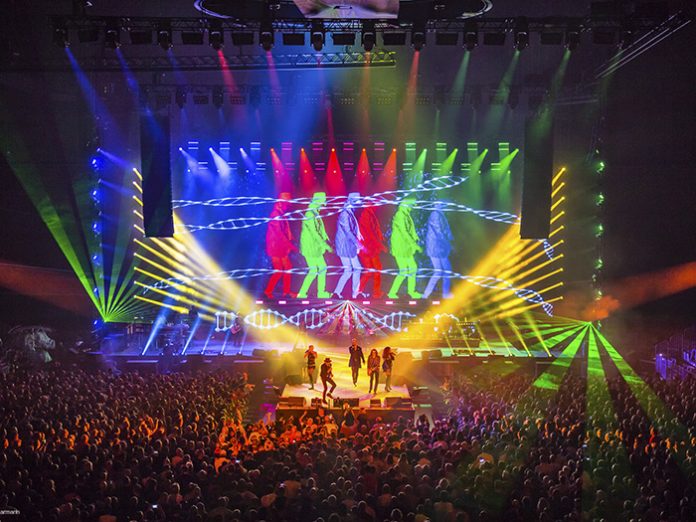 When panic rocker Udo Lindenberg goes on tour it becomes total art for the eyes and ears. In his locker  Lindenberg has everything that makes a show the absolute highlight: artists, UFOs, sensations and, as always, his own secrets, which create a light and video show with extra class and perfect sound.
This was certainly the case with the recently completed tour of the new album Stronger than Time (Stärker als die Zeit). The 71-year-old does not think he will ever stop, and promises his fans another 30 years of well-refined panic with orchestra.
And Günter Jäckle, his lighting designer and operator for many years, is likely to be at his side for many years to come. For this tour, the design was created in the show lab of Michael Schenk's company, epicto in Edingen-Neckarhausen. As with the previous tours of the panic-rockers, Jäckle is again using a lot of fixtures from Karlsbad-based GLP. On board are 28 brand new JDC1 strobes, 24 impression X4 Bar10 as well as 24 GT-1 hybrids.
"The JDC1 was a genuine premiere for me," admitted Jäckle, who for the first time ever abandoned conventional strobes and instead directly integrated the new JDC1 LED strobes into his design. "This lamp — a synthesis of strobe and floodlight — has never existed until now," he said, describing the unusual characteristic of the JDC1. "And the tilt function comes on top of that"
Speaking of synthesis, he also talked positively about the GLP's GT-1 hybrids. "These produce great, crisp beams and an incredible zoom range. They are absolutely reliable – but what else would you expect?" Both lamps are used not only as floor effects on the elevated rear stage, but also on ladders to the right and left of the stage, where the GT-1 and JDC1 are mounted alternately.
In addition to the GT-1 hybrid and the JDC1 strobe, Jäckle once again relied on GLP's impression X4 Bars. A total of 24 pieces of the shorter impression X4 Bar10 were used in a battery above the stage and ensured an entire range of dynamics, from scattered beams to glittering floodlight effects.
"Designing and lighting an arena tour is still a discipline quite different from the upcoming open-air gigs with Udo. It's much more dense, much more atmospheric," Jäckle continued, outlining the differences with the upcoming show at the Meyer shipyard in Papenburg and the Panikliner, which sets sail for five days at the beginning of September.
From his long history with the primordial German rock scene, Jäckle knows to always expect the unexpected: "Udo is always close at hand, knows what he wants, how he imagines certain parts and ultimately also decides how the show should look. And you might have to be prepared to create that special green 'private eye' light. You never know."
Even Jäckle doesn't know if a look like this will be part of the show in Papenburg — but you can bet that lamps from GLP will be there at the start again.